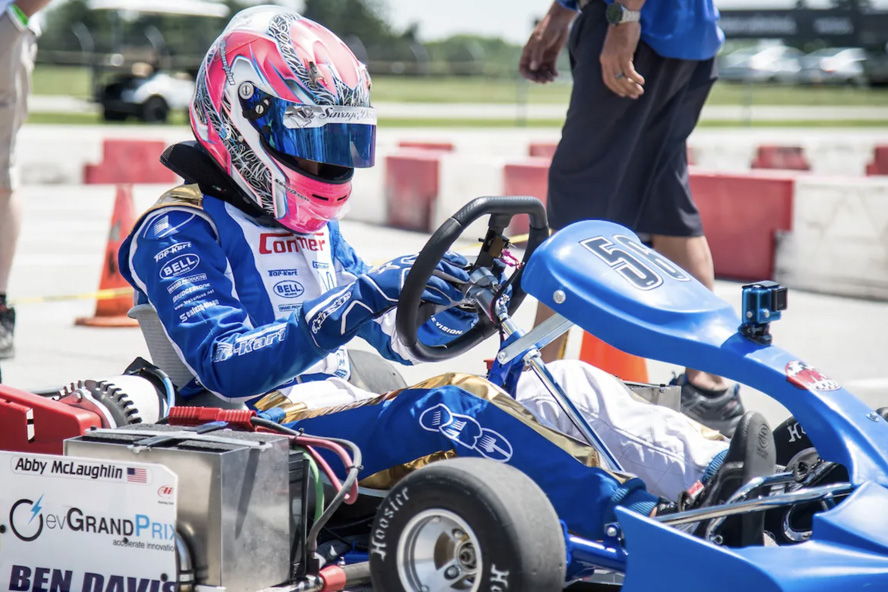 WEST LAFAYETTE, Ind. — Purdue's School of Mechanical Engineering, Purdue Motorsports, Purdue Polytechnic's School of Engineering Technology and Purdue Polytechnic's locations around the state are once again collaborating to offer the evGrandPrix program for Indiana high schools. Through a STEM-rich experience, the program encourages high school students to consider pursuing either an engineering technology or engineering degree and careers in the electric vehicle field. Using electrically powered go-karts as the focus, the program inspires students to commit their creative energies to learning about, developing and showcasing the future of electric vehicle technologies.
The program's first evGrandPrix "Test and Tune" event for 2023 will be held Monday, April 10, at Allison Transmission. At the event, high school students will trial their electric go-karts and learn firsthand from Allison engineers about the company's electric and electric-hybrid propulsion solutions. Media are invited to attend the Fast Lap Challenge at 1:00 p.m. at the Allison Innovation Center and Demonstration Track, located at 5100 W. 10th St., Indianapolis.
"The high school evGrandPrix program provides the opportunity for students to design, build and test ev go-karts," said Corey Sharp, director of Purdue Polytechnic statewide partnerships. "This is truly an amazing learn-by-doing exercise."
Ben Davis, Greenwood Community, Mishawaka, Heritage Christian, Homestead, Shelbyville, Speedway, Jennings County, Rochester, Tipton Community, and Purdue Polytechnic (Englewood) high schools are currently expected to attend the "Test and Tune" event at Allison Transmission with 17 karts and over 100 students and volunteers.
Purdue's evGrandPrix program began in 2010.
"The Purdue evGrandPrix has become one of the premier electric karting events in the country," said Todd Nelson, senior lecturer in mechanical engineering and managing director of Purdue Motorsports. "Our vision for the program is to use the excitement of electric go-kart racing to inspire high school students to pursue higher STEM education. We believe that by providing students the opportunity to work on and understand the various aspects of an electric vehicle, they will see how they can have a great career in a STEM-related field. Helping prepare the next generation to take on the challenges of tomorrow is very rewarding and a whole lot of fun!"
A second "Test and Tune" event will be held April 21 at Purdue Polytechnic's Kokomo location (700 E. Firmin St.). The 2023 Purdue evGrandPrix race for high school teams will take place May 1 at the Purdue Grand Prix track in West Lafayette.
See Purdue Motorsports' website for more information about the evGrandPrix competition for high schools.
Updated April 4, 2023 to include the high schools expected to attend the April 10 event.
Additional information

Video (2022 Purdue evGrandPrix)

Contacts

Corey Sharp
Director, Purdue Polytechnic Statewide Partnerships/Indianapolis Location
(765) 215-1816
sharp22@purdue.edu
Eric Black
Marketing Communications, Allison Transmission
(317) 242-3515
eric.black@allisontransmission.com