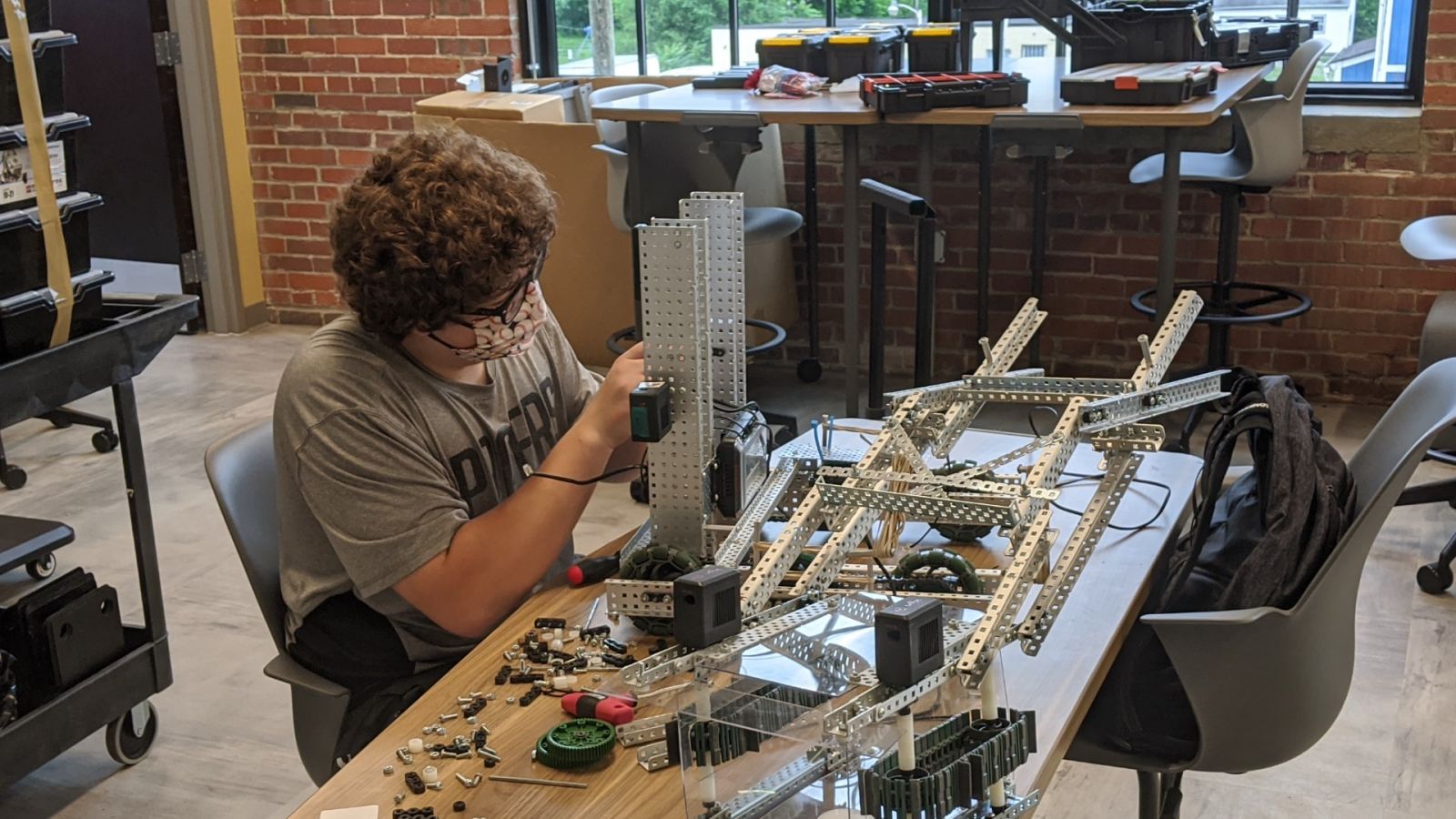 Purdue Polytechnic High School first opened its doors in 2017 as a STEM- focused, tuition-free charter school designed to provide education, experience, and a potential path to college for urban and minority students.
This new high school model has literally reinvented education. With no bell schedules and no individual subject classes like algebra or biology, students learn via six design-thinking challenges each year. These teens set their own goals and manage their own schedules, working with coaches instead of teachers as they tackle team projects, present their ideas, and solve real-world problems. This unique learning environment prepares students to succeed with college credit, in-demand industry credentials and preferred admission to Purdue Polytechnic Institute.
Just three years after that first school opened, there are now three Polytechnic high schools in Indiana: two in Indianapolis and one in South Bend. The first-ever Purdue Polytechnic High School senior class is poised to graduate in May 2021. Thirty-six of those seniors attended a camp at Purdue last summer to experience campus life and earn college credit.
Alumnus gift supports high school, underrepresented minorities

In October 2020, Purdue University announced that the university's flagship Purdue Polytechnic High School in Indianapolis, Ind., would be named in honor of Purdue alumnus Edmund O. Schweitzer III and Beatriz Schweitzer for their $4 million commitment to programs and scholarships to support the educational and career success of underrepresented students. Included in the gift is funding for student mentors and advising staff at Purdue Polytechnic High School, including an engineering-focused learning coach; the new Schweitzer K-12 Learning Innovation Initiative, a study by Purdue researchers that will document the efficacy of the Purdue Polytechnic High Schools' program; need-based scholarship support for under-represented students in the Purdue Polytechnic Institute, the College of Science, and the College of Engineering; and building renovations for the high school.
In a media release from Purdue University, Ed Schweitzer emphasized that opportunities in engineering and the STEM fields are essential around the world.
"What a cool thing to be a part of a career that's fun, valuable, pays well, and allows you to contribute to your community – wherever you come from and wherever you may go. And we are proud and honored to help underrepresented minorities grow and achieve success in much- needed technical and scientific endeavors," he said.
Polytechnic High School principal honored

Keeanna Warren, founding principal of Purdue Polytechnic High School's north campus in Broad Ripple, Ind., received the Outstanding Educator in STEM award during the 2020 Women & Hi Tech Leading Light Awards and Scholarship Gala in October.
The Leading Light awards focus on Indiana women in STEM – science, technology, engineering and mathematics – with a focus on diversity, equity and inclusion.
"It was an honor to be recognized by Women & Hi-Tech and to have the opportunity to shine a light on the work being done by the PPHS North team to support and celebrate diversity and inclusion within our school and the STEM field," Warren said. "This type of work cannot be done alone, and I want to recognize my fellow PPHS North colleagues, Ronni Moore and Liz Irk, who were also nominated. I am incredibly proud and grateful to work with such amazing women, and I'm excited to see what we can accomplish in the future."
Additional information