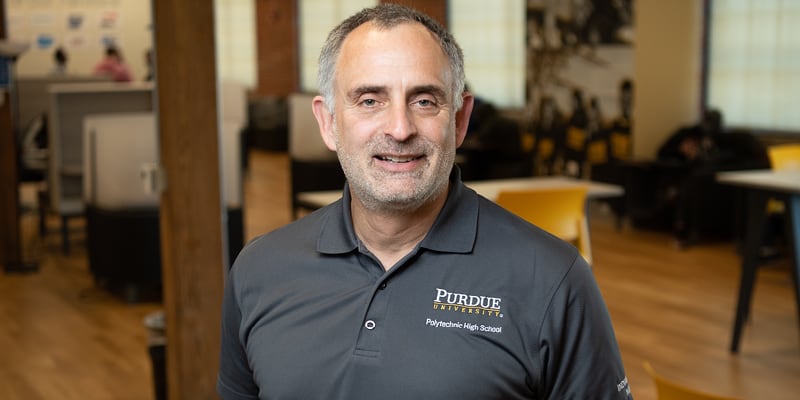 Scott Bess wears many hats.
Bess, the founding executive director of the Purdue Polytechnic High School (PPHS) network and a recent appointee to the Indiana State Board of Education, was recruited by Purdue University officials in 2016 to start the process of opening a new public charter school.
Previously part of the team that established Goodwill's Excel Center in Indianapolis, a tuition-free charter high school that awards industry-recognized certifications and high school diplomas to adult learners, Bess was intrigued by the idea of reimagining the high school experience for Hoosier students who are underserved by traditional high schools and underrepresented in higher education.
"You have to answer a fundamental question: 'Do you want to start a STEM high school with Purdue's name on it, which would be great and successful,'" asked Bess, "'or do you want to fundamentally reinvent the high school experience?'"
Bess oversees the growing, multischool PPHS system that immerses students and their families in an innovative learning community. On any given day, Bess might find himself serving not only as head of school but also as curriculum designer, government liaison or construction consultant.
"Scott has such a knack for flying at all altitudes. You can bump into him in the hallway and the conversation might lead to discussion about the long-term vision of reinventing high school or the nitty-gritty of a curriculum component," said Drew Goodin, lead instructor at PPHS Schweitzer Center at Englewood. "Then his phone will ring and it will either be a state legislator consulting him for his perspective on a bill or a contractor asking a construction question."
PPHS, created to build new K-12 pathways that lead to Purdue, offers tuition-free, authentic STEM-focused experiences that prepare high school students for a successful future.
Goodin said that coaches (what PPHS calls teachers), staff and students have learned a lot over the past five years, especially now that the first class has graduated.
"Scott is the vision keeper. The pull toward 'traditional' school is strong, and it's easy to get lost in the minutia and 'reinvent' back to traditional, which we know doesn't work for historically marginalized students," Goodin said. "Scott wears many hats, but the hat that's on tightest is when he's coaching and nudging us to stay true to our vision."
That vision includes finding new ways to prepare high school students for college and workforce success.
"There's an unacceptable low number of low-income and Black and brown students who are qualified to get into a place like Purdue," said Bess. "There is a preparation gap. We've figured out a way to close that preparation gap where we provide opportunity for everybody."
Thirty-seven students from the first graduating class at PPHS Schweitzer Center at Englewood are enrolled at Purdue for the fall 2021 semester.
Bess is grateful to families and staff who have taken risks in being in the first classes at both locations.
"All of them took a chance on something sight unseen," he said. "We're seeing a real positive growth and seeing some good inroads into the communities we serve."
See the full Purdue News story.
Additional information