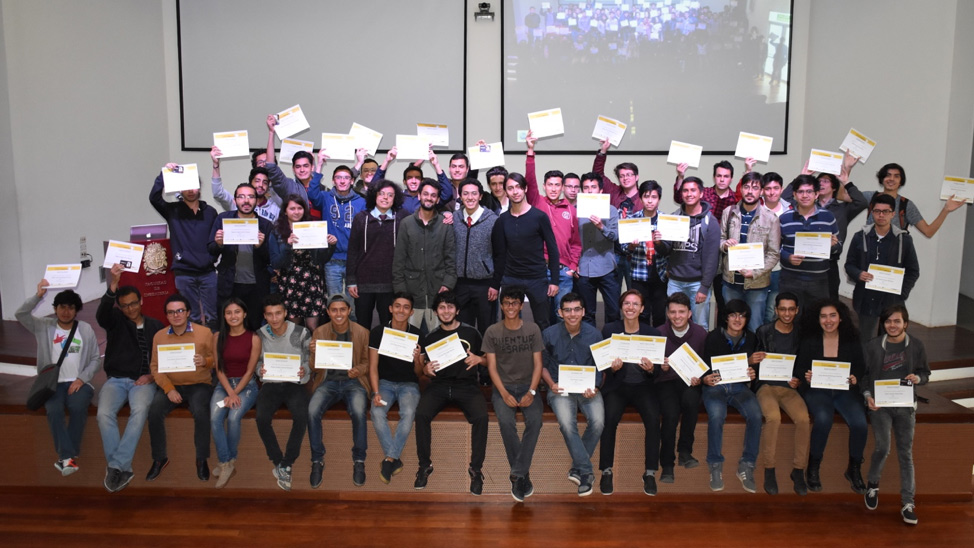 The Research Center for Open Digital Innovation at Purdue University (RCODI) has concluded another successful IronHacks program in collaboration with the Universidad Nacional de Colombia (UNAL). On June 7, the 87 student participants of the open data hacking competition were celebrated on the UNAL campus in Bogota, Colombia.
"We are proud of the continuing collaboration with UNAL and excited to see the effort that the student put into creating open data apps with real impact," said Sabine Brunswicker, associate professor of technology leadership and innovation and director of RCODI.
UNAL student leader Alejandro Diaz praised the competition saying, "We appreciate the opportunity to continue building skills and new connections through the collaboration with RCODI."
Best Solution winners included Juan Cardenas Gomez, Miller Correa Gonzalez and Maria Robayo Sepulveda. Runners Up included Luis Baez Aponte, Nicolas Mateo Casas and Ivan Andres Lemus. Third Place winners included Sebastian Delgado Perez, Sebastian Moreno Reina and Carlos Gutierrez Silva. Best Spirit winners included John Montoya Gomez, Juan Cardenas Gomez and Maria Robayo Sepulveda.
"It was a great experience," said Lemus. "These technologies are important for any student or professional [to learn]."
"I'm very grateful that the tutorials were so helpful," said Reina.
Diaz, along with Daniel Santos, winners of the 2017 UNAL-Purdue competition, travelled to Purdue University during the Spring 2018 semester to work on technical infrastructure projects. As a part of the collaboration with RCODI, an extension of the Purdue-Colombia Institute and ongoing engagement through the Purdue Office of Global Affairs, UNAL student winners have the opportunity to travel to campus as interns to perform work associated with the IronHacks program. Purdue Honors College students who have participated in past IronHacks competitions have also had the opportunity to travel to Colombia to engage in internships and skill-building opportunities at UNAL.
Purdue IronHacks is a unique, five-stage open data competition focused on digital innovations with social impact. Close to 1000 students from the Purdue Polytechnic Institute, Purdue Honors College and international universities have participated in this program, originally launched in 2015. In the Spring 2018 competition, UNAL students were tasked with helping new students at New York University Stern School of Business find a safe and affordable place to live near campus using data from data.gov.
Source: Sabine Brunswicker
Additional information: