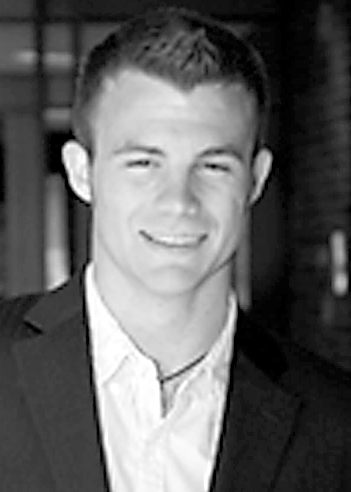 Ian Hamilton, a computer graphics technology senior at Purdue's College of Technology, has been named the first Student Ambassador for entrepreneurship and innovation for Purdue and the State of Indiana.
The Student Ambassadors Program is a student-focused, joint initiative of the National Collegiate Inventors and Innovators Alliance (NCIIA) and the National Center for Engineering Pathways to Innovation (Epicenter). The program trains undergraduate student leaders to promote entrepreneurship and venture activity, particularly in science, technology, engineering and math (STEM) disciplines, among their peers on campuses throughout the U.S. The NCIIA and Epicenter believe that students are "secret agents of change" which is why the two national organizations teamed up in 2012, with funding from the National Science Foundation, to train a generation of student leaders to catalyze even greater levels of invention, innovation and creativity among students.
Hamilton, who will be a Student Ambassador for a year and a half, begins his training program this month.
"I'm honored to be part of this program and look forward to working with students across Purdue and to hearing what my fellow ambassadors in other universities discover," he said. "In this time when Purdue's incoming President Mitch Daniels has made entrepreneurship and economic impact an important part of our university mission, I see this as one mechanism that can highlight our assets and issues for him from the students' perspective."
Hamilton's involvement is sponsored by Gary Bertoline, dean of the College of Technology, and his advising is provided through Purdue Tech Ventures.
"With his many extracurricular leadership positions, undergraduate technology and entrepreneurial experiences, and his upcoming graduate work, Ian is ideally positioned to help illuminate all the resources available on campus so more students who are inclined to be entrepreneurial know how to use and access the many resources Purdue has," Bertoline said. As an ambassador, Hamilton will inventory entrepreneurial assets, work to create more networking opportunities for entrepreneurial students, and hold student-driven experiential events.
Originally from Plainfield, Ind., Hamilton will graduate with a bachelor of science degree in May 2013. He will enter the College of Technology graduate program in the fall to study computer and information technology. He is currently commercializing his senior design class project. He is president of the College of Technology Ambassadors, a student representative on the college's Alumni Board, a team leader for Boiler Gold Rush, a brother in Phi Kappa Psi Fraternity and a member of Purdue's Sailing Club. Hamilton has also worked in mobile application development.
The sponsors of the program are excited by Purdue's participation in the Student Ambassador program and Hamilton's selection.
"I am very pleased that Purdue has joined the ranks of eminent universities participating in this vitally important program," said Humera Fasihuddin, NCIIA's program manager of the Student Ambassadors Program, "I look forward to getting to know Ian and seeing his activities take hold with students so we see yet more venture activity from Ian and other students at Purdue."
About the NCIIA
The NCIIA catalyzes positive social and environmental impact through invention and technological innovation by providing funding, training and mentoring for university faculty and student innovators. With support from The Lemelson Foundation, the National Science Foundation, and the United States Agency for International Development, and a membership of nearly 200 colleges and universities from all over the United States, the NCIIA engages approximately 5,000 student entrepreneurs each year, leveraging their campuses as working laboratories for invention and innovation and incubators for businesses, and ultimately helping them to bring their ideas to market. For more information, visit the NCIIA Web site or contact Humera Fasihuddin.
About the Epicenter
Epicenter is an education, research and outreach hub for the creation and sharing of entrepreneurship and innovation resources among engineering schools in the U. S. Funded by the National Science Foundation and managed by the Stanford Technology Ventures Program. Epicenter is dedicated to preparing undergraduate engineers to be more entrepreneurial and become bold innovators with the knowledge, skills and attitudes to contribute to the prosperity of the U.S. economy and society. Learn more and join the conversation at epicenter.stanford.edu. For more information, contact Leticia Britos Cavagnaro.
About Purdue's College of Technology & Tech Ventures
The College of Technology at Purdue is focused on using technology to make improvements in business, industry and education. Its programs are grounded in theory and the application of that theory. The college's signature research areas include: Technology and Life Sciences, Security and Forensics, Advanced Manufacturing, Cyberinfrastructure, Energy and Sustainability, and STEM (Science, Technology, Engineering, and Math) Education. Tech Ventures is an on campus accelerator offering personalized and free assistance to student and faculty projects to help foster their innovations through to successful startups or products. Tech Ventures provides hands-on mentorship by proven entrepreneurs and investors, has a supportive experiential based curriculum using Lean LaunchPad and Springboard, and assists all faculty, staff, and students including those where Purdue would not own nor have any claim to the IP. For more information contact Prof. Lonnie Bentley or Matt McKillip.