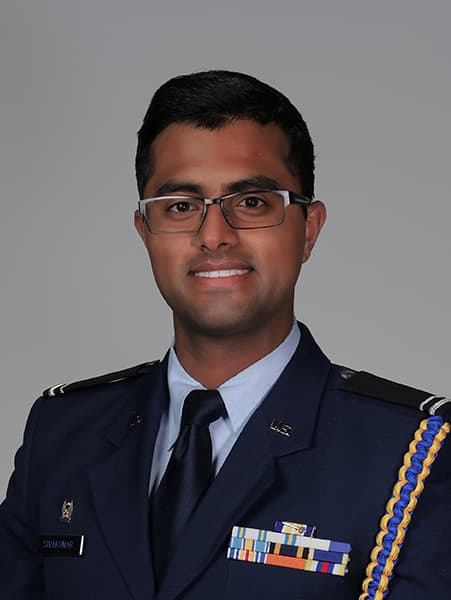 A Purdue ROTC (Reserve Officer Training Corps) cadet will become the University's first Space Force officer.
Ashwin Sivakumar will be Purdue's first ROTC cadet to become a U.S. Department of Defense Space Force officer when he graduates in December. Three additional ROTC cadets are on track to graduate from Purdue this academic year and become Space Force officers.
It's an exclusive club. These four Purdue Air Force ROTC cadets are among only 55 cadets selected nationwide for the Space Force.
"I've always liked space very much," said Sivakumar, adding that video games initially spurred his interest. "I loved astronomy as a child and rocketry and engineering."
The U.S. Space Force was established in December 2019, becoming the sixth military service branch in the Department of Defense. Col. Ken Callahan, currently posted with the Purdue Air Force ROTC detachment, said Sivakumar's performance as an Air Force ROTC cadet has been outstanding.
"There is a strong interest from the Space Force and the Air Force in Purdue, and Sivakumar is an example of the quality of education we have here," Callahan said.
Callahan said Air Force ROTC is developing additional education and training for Space Force officers. Beginning in spring 2021, Space Force officer candidates will receive five to six informational briefings on space history, newly released doctrine and current events and announcements.
See the full Purdue News article.
Additional information

About Purdue ROTC

The Division of Military Science and Technology in the Purdue Polytechnic Institute was approved by the Purdue University Board of Trustees July 18, 2014; however, the catalyst of the Polytechnic's Division of Military Science and Technology dates back to 1869. That is the year local business investor John Purdue donated $150,000 to fulfill Indiana's participation in the Morrill Land-Grant Act. The legislation enabled the establishment of a college, "without excluding other scientific and classical studies and including military tactic, to teach…agriculture and the mechanic arts…to promote the liberal and practical education of the industrial classes in the several pursuits and professions in life."
Today, the three Reserve Officers' Training Corps (ROTC) programs on campus – Air Force ROTC, Army ROTC and Naval ROTC – continue to fulfill the Land-Grant Promise as they train students to become officers in the U.S. armed forces.