Nearly 300 cadets as well as Active Duty, National Guard, Army Reserve Soldiers, Marines, and Airmen representing multiple universities, units and twenty states including Texas, New York, Georgia, and North Dakota traveled to Purdue University on March 25 to participate in the 2nd Annual Norwegian Foot March. Participants ranged in age from 18 to 59. With starting and ending points on Purdue's campus, the 18.6-mile course required individuals to march on a trail that covered a variety of terrain while wearing military uniforms and boots as well as carrying a 25-pound rucksack with frame. Participation in this year's event surpassed last year's by over 50 percent.
"The Boiler Battalion is proud of this event's growth, and we are prepared to help it reach its full potential," said Mathias J. Sutton, head of Purdue's Military Science & Technology Division.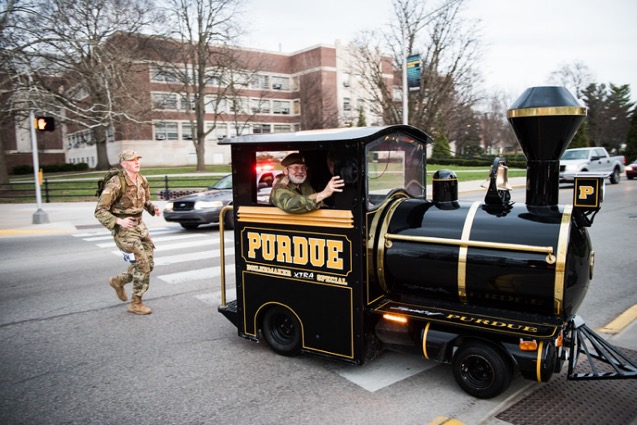 Sponsored by Nils Johansen, a retired Norwegian Artillery Reserve Officer and Purdue alum (BS, MS, and Ph.D.), the Norwegian Foot March is a boot camp tradition for Norwegian soldiers. Cadets and service members who completed the foot march in an allotted amount of time were awarded a certificate and the bronze badge for finishing, a silver badge for finishing four marches, and a gold badge for completing eight marches.
The overall male and female winners were LTC Garrett Kolo (3:09:29), U.S. Army Reserve, and Cadet Erin O'Laughlin (3:53:56), Purdue Army ROTC. The overall team winner was Purdue Army ROTC Team 1, whose members were Peter Clark, Ty Lanterman, Matthew Hinkley, and Max Leonard (3:26:15).
Proceeds from the Norwegian Foot March will benefit the Purdue University Army ROTC Student Organization and Lafayette Food Finders Food Bank. In addition, approximately 600 pounds of canned items used for weight in rucksacks were donated to the Lafayette Food Finders Food Bank.
Additional information: