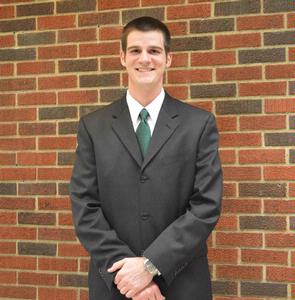 Sam Rymer was named an Outstanding Student during an awards ceremony for the National Association of Home Builders (NAHB) Student Chapters program at the 2013 NAHB International Builders' Show (IBS) in Las Vegas in January.
NAHB Student Chapters Outstanding Student Awards are given based on grade point average, involvement in the local student chapter, involvement with the local home builders association, and interest in pursuing a residential building career. Students are selected by their chapter's faculty advisor and awarded a certificate and gift card from HBI, made possible thanks to the generosity of the NAHB Leading Suppliers Council, which sponsors the awards.
"Sam is a great example of the Purdue BCM department's student talent, showing strong leadership, organizational, and project management skills for the construction industry," said Eric Holt, his NAHB advisor at Purdue.
"For the second year in a row, I had a great experience at the International Builders' Show," Rymer said. "I was highly honored to have been selected for the Outstanding Student Award within the Residential Competition. It was a nice surprise when my name was called. I was very proud to hear the clapping and the cheers coming from my teammates. I could not have achieved so much without their help and support along the way"
Tom Jaenicke, corporate co-chair of the Leading Suppliers Council, and John Courson, president and CEO of HBI, presented Rymer with his award at the event.
administers the NAHB Student Chapters program.