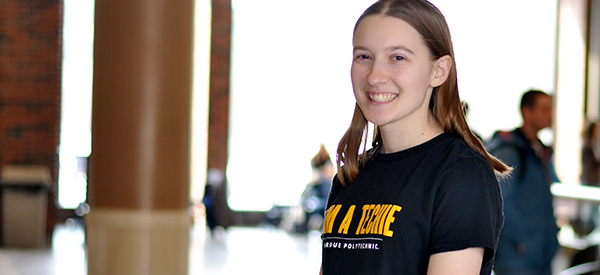 Susie Scarbeck's majors and campus activities seem to be perfectly aligned.
Scarbeck is pursuing majors in organizational leadership and engineering/technology teacher education, and she is interested in development and talent management. She has gained plenty of real-world experience as a resident assistant in McCutcheon residence hall. For example, in TLI 25400 (Leading Change In Technology Organizations), she learned about managing transitions.
"That is pertinent to me right now. I'm working with 43 freshmen girls, and I can apply that material to what they may be struggling with as they transition to college life," Scarbeck said. Other topics from her classes that translate to her RA position include change management, conflict management, working in team-based settings and communications.
She is also a member of Women in Technology, a new organization for her major called Leaders in Technology, and occasionally the campus-wide Humans vs. Zombies event. Her OLS 37500 (Training Methods) course has helped her feel comfortable in leadership roles in these organizations.
"I'm enjoying training people. I like researching a topic and then explaining it to others using different training methods," she said.
About two-thirds of the women on her floor are also members of the Women in Technology learning community. A learning community is a program for first-year students that has been shown to improve grades, social interactions and graduation rates. Scarbeck participated in a learning community during her first year, and she is an enthusiastic proponent of the concept.
"What you get out of the learning community is a lifelong network of friends who are in your field. These are people taking similar classes, and you can just call down the hall for help. I don't know why you wouldn't participate in one," she said.
Scarbeck's time is not all about classes and leadership, though. She also makes time for social activities with her floor, like "Harry Potter" movie marathons and fountain runs on campus, as well as taking advantage of the campus recreational sports facility.
Scarbeck also talked about her academic and social life on campus as part of the college's "I'm A Techie" video series: