Sam Rymer is doing all the right things to help him succeed after he earns his bachelor's degree in building construction management in 2014.
His schedule includes extracurricular activities, networking opportunities and entrepreneurship classes. For the 2011-12 academic year, he was also pleased to find out he was awarded a scholarship, his first since becoming a Purdue student. As he logged into his MyPurdue account during spring 2011, he was surprised to see a $1,500 BMW Constructors Inc. Scholarship listed for the upcoming year.
As a student who lives off campus, Rymer understands the challenge of balancing budgets while attending school full-time. Rent, groceries and other living expenses must be considered each semester as tuition is paid and books are purchased.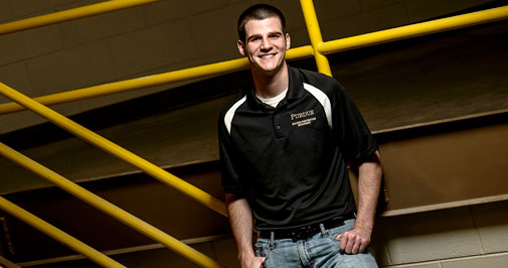 "Books are a huge issue for me. I've been able to pay for everything myself so far, but books put a big dent in my pocket. You have to be really conscious of your spending," he said. "The scholarship has been very helpful. Without it, I would have held back on some of my living expenses to balance my budget. I want to thank BMW Constructors for contributing to my education."
With that extra stress gone, Rymer can more fully focus on his academic career, which includes being a member of the National Association of Home Builders (NAHB) Residential Construction Management Competition Team. The team traveled to Orlando, Fla., this month to present their 100-page proposal. They finished in the top 25, and Rymer already has plans to improve on that finish for 2013.
"I think it went well, and I learned a lot from it," he said. It was a huge networking experience. Next year, we'll have three team returning members who were part of this year's presentation team." Rymer also participated in Purdue's Design-Build Institute of America, Student Chapter, including it's four-week certification process. "A lot of the relationships and interactions we learned about are things I saw in my internship with Meyer-Najem. I worked in estimating for them," he said.
From the relevant student activities to the responsive faculty and staff, Rymer has enjoyed his time in the College of Technology. He also appreciates the friendly atmosphere he encounters on a daily basis.
"We have a great group of students in BCM. We all get along. There's a lot of smart kids and a lot of talent," he said. "I like how personally helpful all of the professors are. They go out of their way to make sure we are comfortable."
The Charlotte, N.C., native hopes to work in the commercial industry after graduation to gain experience before he starts his own contracting business.