Staff and faculty of Purdue Polytechnic's School of Construction Management Technology (CMT) hosted a joint meeting of the Indiana Society of Healthcare Engineering (ISHE) with the Purdue chapter of the American Society for Healthcare Engineering (ASHE) in January. Bradley Benhart, associate professor of practice in CMT, organized the gathering. He called the event "a collaborative meeting with industry and our students." The conference enabled Polytechnic students to network with professionals in the construction industry who specialize in the planning, design and construction of hospitals and other healthcare buildings.
Kaitlyn Adams and Jennifer Collins are students in Benhart's healthcare construction program. Adams, a junior in healthcare construction management, began her Purdue education in nursing but decided to take her interest in healthcare in a different direction.
"I originally came from nursing, and I was nervous to switch but construction management is such a welcoming major," said Adams. "I took a leap of faith and I'll never look back."
Adams found the ISHE conference to be quite informative.
"I learned from not only contractors with years of field experience, but I also heard solutions from engineers, architects and facilities managers' standpoints," Adams said.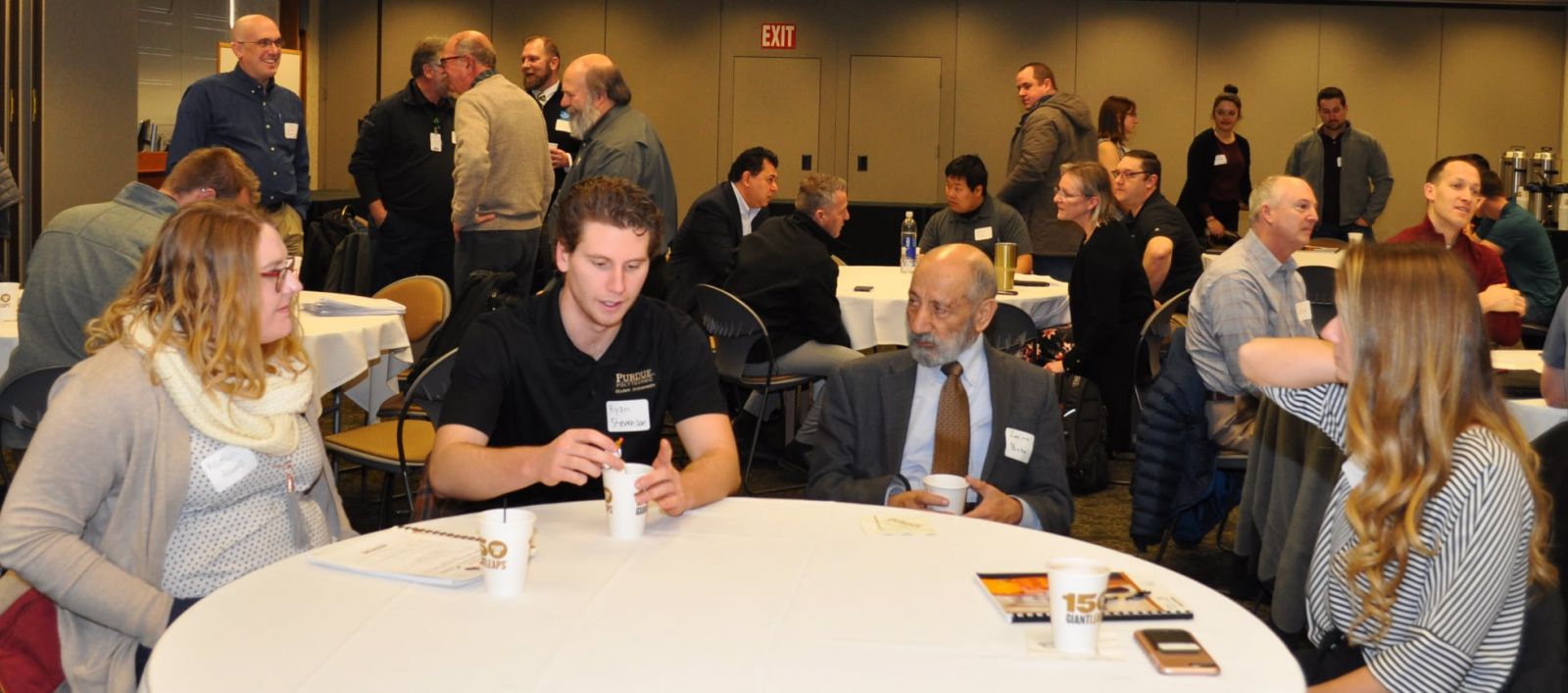 Jennifer Collins also is a junior, with a dual major in construction management and healthcare construction management and a minor in building information modeling. She particularly enjoyed the group activity at ISHE, which paired students with construction professionals.
"Two other students along with three construction professionals and I were given the task of putting together a plan for a specific construction management solution," explained Collins. "It was amazing to pick the brains of the professionals and bounce off each other's ideas. It was especially rewarding when I brought up points and solutions that the professionals did not. It made me feel extremely proud of the knowledge I had gained."
Collins' careers goals include managing healthcare facilities and overseeing building upgrades.
"I would like to work closely with the nurses and doctors to see what they personally want in a new building or renovation," she said.
This week, Benhart and his students are attending the annual the Planning, Design and Construction Summit in Phoenix, Ariz. More than 3,000 professionals from hospitals, design firms and construction companies are meeting to discuss sustainability, designing for future generations and technology integration in healthcare facilities.
Benhart described the healthcare construction management (HCM) concentration as providing students with "a deeper dive into the healthcare built environment" than students might receive in other, more general construction programs. But he also wants his students to know that healthcare construction management is more than just constructing buildings.
"We want them to learn how an environment can help a person heal," he said.
Additional information: