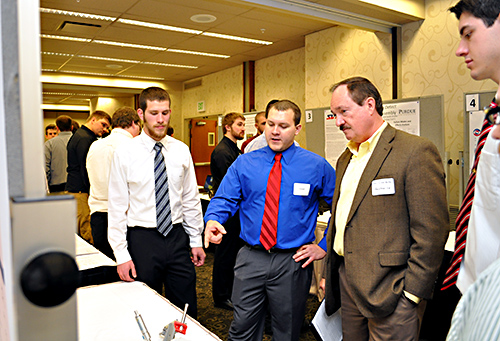 Teams of engineering technology seniors are halfway through a yearlong senior capstone class that focuses on industry-sponsored projects. In nearly all cases, the projects ask students to improve a process to increase safety, efficiency or automation for a customer.
One team, for example, is working on a sensor and transmitter that can be used to track wear and tear of a knee joint implant. Another team is helping automate the kitting process for a manufacturer with the help of a Baxter robot. Two other teams are collaborating with students in Europe for projects for Lenze and Eaton. These projects and more were on public display December 12 as part of the teams' mid-year progress reports (pictured at right).
The senior course for School of Engineering Technology students is led by Phil Sanger, professor of electrical engineering technology. It has grown from three projects in its first year to 33 in its current and third year. The college plans to create similar experiences for seniors in its other departments, and they will look to Sanger's success as a model for implementation.
"The tasks they are achieving are ones that they couldn't get from a traditional classroom experience," Sanger said. In the process of gaining valuable project and team experience, the students are helping companies find solutions that can impact consumers as well as the bottom line.
Global reach
Even before the classes began, students had to apply to be part of the two international teams. Four students were chosen to work with their counterparts from the University of Hanover in Germany. Three others are working with students from Gdansk University of Technology in Poland.
"How do we change people's mindsets about going global?" Sanger asked. "These projects require students on both sides of the ocean to work together and figure out how to work with someone from another country or culture."
Part of the global team set-up is a visit to the teammates' school. The German students have already visited Purdue, and the Polish students will be on campus during Purdue's spring break. Purdue's students will visit their international teammates in May or early June of 2015.
Additional space
Because of the size of the capstone course – 118 students – the college needed to locate additional space where students could design, build and test their projects. They found that space at Purdue Research Park in West Lafayette. In addition to workspace, the students have access to conference rooms for consultations with their industry sponsors. Their space also includes 10 computer stations, 24 work stations and 18 rolling tool cabinets.
The students have been provided with fobs that grant them building and workspace access. "They are pleased that they have their own spots and they have more control over how it is set up and used," Sanger said.
Teams have mapped their spring semesters with specific deadlines, including their final public presentation in late April 2015.