Two scholarships established by Thomas J. (HDR '08 TECH; MS '65 ECE; BS '64 ECE) and M. Judith Sheehan are benefitting Purdue Polytechnic students.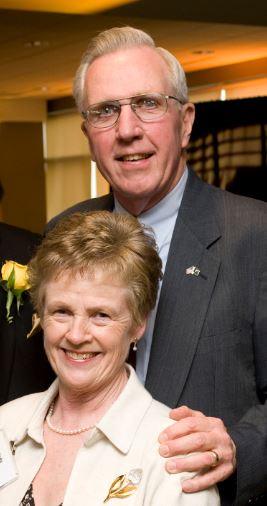 The Sheehan Family Scholarship supports student athletes majoring in engineering, science, or technology at the West Lafayette campus.
The Thomas and Rosemary Sheehan Scholarship provides merit-based support for students pursuing a degree at Purdue Polytechnic Kokomo. Preference for this scholarship, provided to high school seniors who earned at least a "B" average and who maintain at least a 3.0/4.0 GPA and six credit hours per semester at Purdue, is given to female students.
Additionally, the Sheehans matched a total of $20,000 in gifts from Dean's Council members in 2015 which supported scholarships for first-year students, one of Purdue Polytechnic's initiatives.
"Education is vital," said Tom and Judy Sheenan. "Every hour in the classroom develops a more educated, stronger, better-rounded and contributing person." In supporting "an educated future for America," the Sheehans stressed that it's important to "never stop learning."
As founding members of Purdue Polytechnic Kokomo's 400 Club, the Sheehans and Mike O'Hair, former associate dean for statewide technology and professor emeritus of electrical engineering technology, have encouraged donations to scholarship funds for Purdue Polytechnic Kokomo students, designated gifts for the purchase of instructional equipment, and undesignated gifts for the enhancement of Kokomo programs. The group has awarded over $1.3 million in scholarships since 1991.
Tom Sheehan also received the 1991 Kokomo 400 Club Distinguished Service Award which recognizes an outstanding friend and/or alumnus of Purdue University who has made a significant contribution to his or her community and to Purdue University, especially the Kokomo campus, through service.
Sheehan's 36-year career with General Motors included three years of service as the chief operating officer of Delco Electronics. Toward the end of his career, he was directing the activity of more than 23,000 employees in 17 countries. After a one-month retirement, he launched a new venture, Syndicate Sales Inc., which supplied items for the floral industry.
Sheehan currently serves on the President's Council Advisory Board and the Purdue Polytechnic Institute Dean's Council. He was previously a member of the Engineering Advisory Council. He earned his bachelor's degree in mechanical engineering from General Motors Institute (GMI, now known as Kettering University) Engineering and Management Institute before attending Purdue. While attending Purdue, he participated in Theta Xi social fraternity. Tom and Judy have been members of the John Purdue Club since 1980. They have been married for 56 years and have four children: Thomas III (BS '85 Science), Ann, David, and Jennifer.