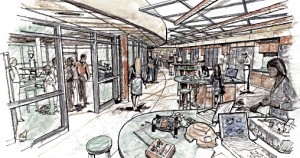 The planned Innovation Design Center (IDC) at Purdue will provide dedicated work space for student projects such as the EcoCAR 2, Solar Decathlon or Rube Goldberg competitions.
The first phase of the IDC, which will be located at Third and Russell Streets, will be coordinated by the colleges of Technology and Engineering.
The student-led committee to design the facility focused heavily on developing spaces that lead to creativity and collaboration. In fact, two of the areas are named "Magnet Spaces." They include a large commons area, five conference rooms for teaming spaces and enough office space for up to 32 projects.
The students also wanted to foster discussion across academic majors, what they call "intellectual collision." The proposed laboratories, available to all students who use the IDC, will bring students together and reinforce the concept of learning by doing.
The lab spaces include three design studios, a printing studio for large-scale posters and lamination, and a prototyping studio to help users create three-dimensional pieces based on their ideas. Two other workspaces have larger scales: the Manufacturing Lab complex and Vehicular and Alternative Energy Lab Complex.
The manufacturing area will offer a full-range of equipment, from massive 10-ton lasercutters (to be used under supervision) to a drill press and belt sander. The smaller tools would be available for use 24 hours a day. This area of the IDC would also include a store stocked with common small hardware items for purchase and tools available for check-out.
The colleges of Technology and Engineering are in the fund-raising phase of this $17 million project. Contact the College of Technology Office of Advancement at 888-428-1489 or techdev@purdue.edu for more information about funding and naming opportunities.
The Vehicular and Alternative Energy Lab will make it easier to conduct wind and solar energy tests and for teams to work on vehicle projects such as evGrand Prix, Solar Car or EcoCAR 2.
What makes this unique?

Created by students, created for students
Engineering and Technology students and faculty working together on projects in a shared space
Space used entirely for student project work