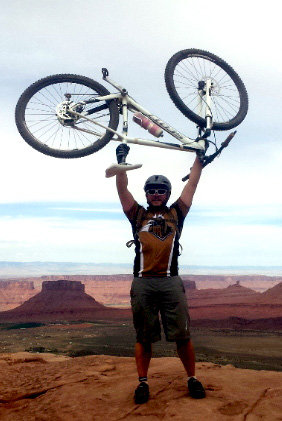 Evan Axthelm, a junior in mechanical engineering technology, will bike across the country this summer as part of a program to build affordable housing. He will bike around 3,600 miles over the 15-day trip.
The Bike and Build program organizes trips around the country in support of affordable housing. During these trips, Bike and Build riders work alongside Habitat for Humanity and offer hands-on help and support with the construction of affordable houses.
"The cool thing about Bike and Build is that it offers a hand up by helping people build houses as opposed to a hand down, giving people houses," Axthelm said.
There are eight routes riders can take, and each route has 30 – 35 people. Axthelm will be on the North Carolina – San Diego route, set to be just under 3,600 miles.
Each rider is tasked with fundraising and Axthelm is no exception. He has done pancake breakfasts and door-to-door fundraising to meet his goal of $4,500. To support Axthelm and to find out how close he is to his goal, visit his rider site.
"I would like to make an impact in creating affordable housing and hope to be remembered as a philanthropist," Axthelm said. As a Bike and Build rider, he has merged his love for cycling with these two goals. "I have been cycling for 5 – 6 years and ever since I got serious, I wanted to bike across the country. Growing up I realized how fortunate I was and decided to give back and help others, so I brought these two passions together and it led me to Bike and Build."
During the winter he has been training using the indoor facilities. "Integrating training with my busy schedule has not been too difficult. It's all about time management. The biggest challenge is being able to plan your afternoon's and week's schedule in advance," Axthelm explained.
Axthelm is actively involved on campus as a consultant for the Purdue Outing Club and a community group leader at Purdue Christian Campus House.