A student proposal to create a new fuel-efficient and technology-driven ground support vehicle for airports has won an award from the Federal Aviation Administration.
Four students in a graduate-level sustainability course in the Department of Aviation Technology designed the iTUG – Information Terrain and User Guidance – to bring advanced technologies to the ground support equipment (GSE) vehicles used to transport baggage and cargo or to push airplanes back from their gates.
They submitted their plan to the 2013-2014 National FAA Design Competition for Universities and placed third in the operations and maintenance category.
"When challenged and directed, our students succeed at the national level. The education provided by our college is top notch," said Mary Johnson, associate professor of aviation technology, who taught the class.
Adding technology to tugs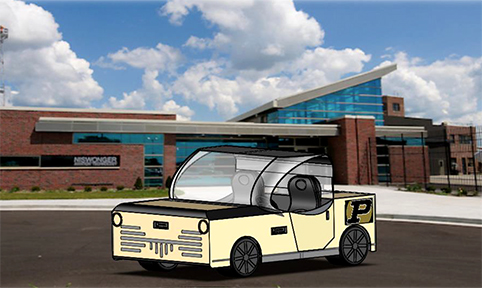 Current tugs are typically built from 30-year-old designs, said Tyler Futch, an aviation and aerospace management graduate student at Purdue, which made them a prime candidate for upgrading. The team focused on three goals: fewer collisions between tugs and airplanes or pedestrians, improved communication between the tug operator and other airport personnel, and cleaner and more efficient fuel.
"Thirty percent of maintenance delays and cancellations are caused by GSE-related accidents," Futch said. "If the iTUG were to prevent even one collision with an aircraft, it would pay for itself. The airline is losing money when an aircraft is not in the air, not to mention maintenance costs and insurance claims and settlements."
The team proposes the use of four Kinect One game devices, one on each side of the vehicle, to provide real-time 3D mapping of the area surrounding the iTUG. If obstructions are detected, the iTUG driver will be unable to navigate in that direction. Drivers would be able to see the 3D map on a multifunction display mounted in the vehicle.
The display would also be used to improve communication. It would be able to send and receive text or diagram messages with more details and less sound interference than the current hand signal and two-way radio communication systems.
"Because you can see the messages on screen, there is less chance for misinterpretation and mistakes," said team member Brad Grube, who took the class as a graduate student. The system would also keep track of maintenance records for the tug.
The iTUG would be powered by compressed natural gas or electricity to help reduce emissions. Combined with fewer mistakes because of miscommunication, the team believes the new tug could help airlines improve overall fuel efficiency.
Benefits beyond graduation

Futch and Grube agree that the semester-long project has made them more desirable job candidates. In fact, Grube recently accepted a position as an airframe design engineer for Butler America.
"They really loved this project because of the real-world experience," he said.
Futch will graduate in May 2015, and he knows this project will strengthen his resume.
"It helped us all work as a team, and we showed we could think critically to improve a real-world problem," he said.
Other team members were graduate students Jim Martin and Zach Tolley. The team members will share $1,000 in prize money.
See the full iTUG proposal and design.
(Photo: Team member Brad Grube created this model of the iTUG for submission to the FAA).