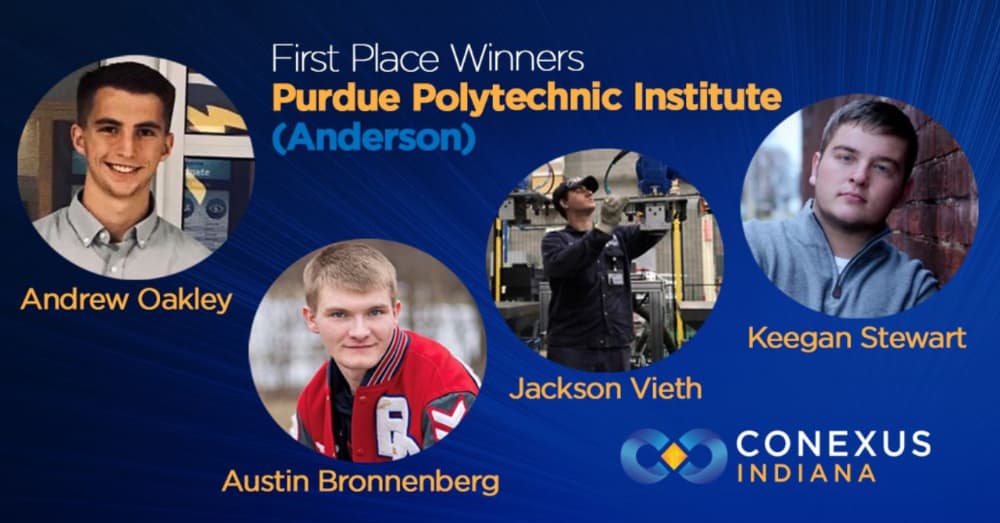 Students from Purdue University's Polytechnic Institute were among winners in the sixth annual Conexus Indiana National Collegiate Case Competition, which challenged students to solve one of two advanced manufacturing and logistics business cases.
Austin Bronnenberg, Andrew Oakley, Keegan Stewart and Jackson Vieth, all students at Purdue Polytechnic Anderson, comprised Team Eagle Creek and were selected as one of the winning teams. The students' proposed strategy, which included the implementation of new product tracking software and growing the in-house quality control department, would reduce the overall manufacturing cycle from six to eight weeks to three to four weeks.
"We were blown away by the creativity and insight each team brought to their presentations," said Susan Murray Carlock, Mursix Corporation's vice president of business development, who served as a judge for the competition. "We're excited to engage further with the students who tackled our unique challenges in hopes we may be able to put some of their ideas into practice for the benefits of our customers."
The national contest is held annually and encourages college students to use what they've learned in the classroom in a simulated real-world environment. In addition, students interact with Indiana advanced manufacturing and logistics executives during a career fair and throughout the event with industry serving as judges.
Three first-place teams each won $5,000. Twenty-four teams participated in the competition.
Additional information