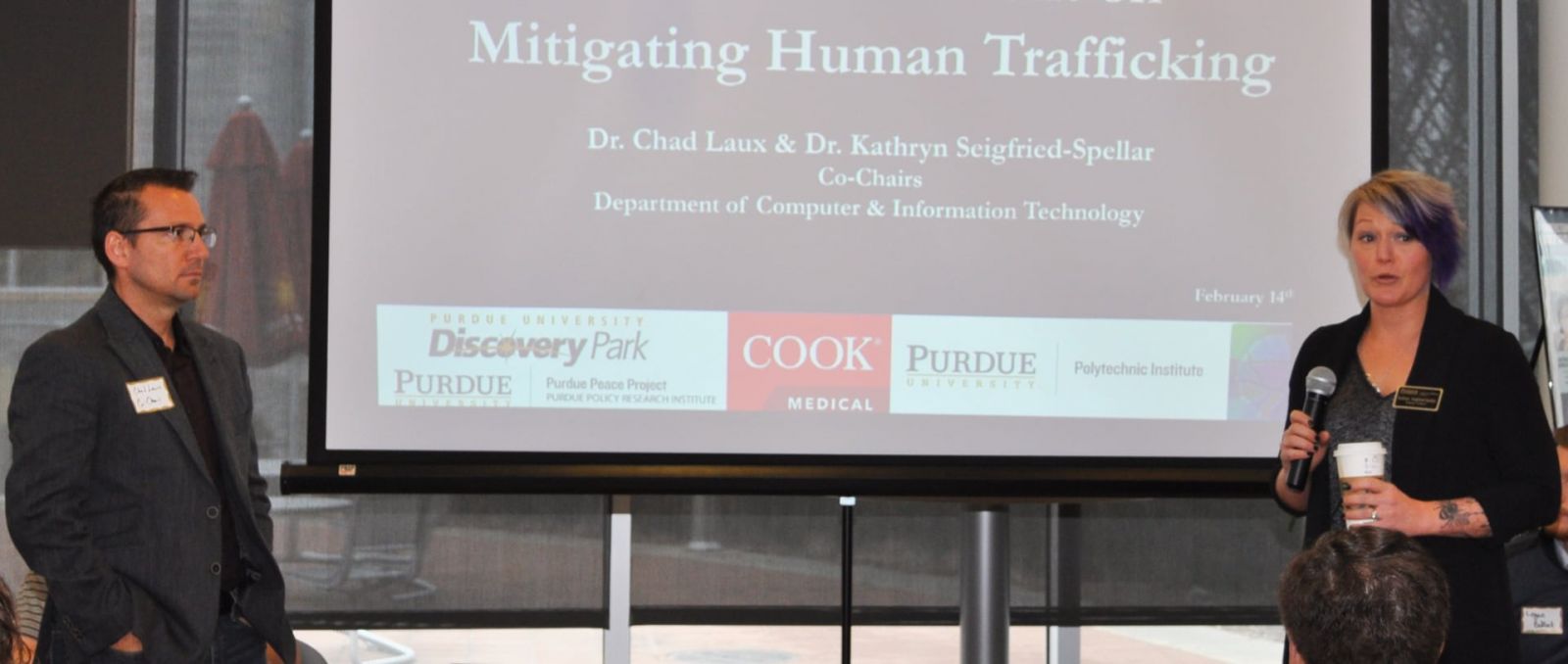 Two teams of Purdue University students were honored Friday for their ground-breaking, socio-technical ideas to combat the criminal enterprise of human trafficking. The practice of human trafficking is "the acquisition of people by improper means, such as force, fraud or deception, with the aim of exploiting them."
The award presentation was the culmination of Purdue Polytechnic's "Design Innovation Challenge: Fight Human Trafficking in the Americas," held Feb. 14-15, 2019, and co-organized by Chad Laux and Kate Seigfried-Spellar from the Department of Computer and Information Technology. The design challenge began on Thursday, Feb. 14, when experts on human trafficking, including a survivor of labor trafficking in Indiana, described different perspectives of human trafficking. After a presentation on design thinking by Polytechnic faculty, students began the design innovation challenge that afternoon and worked nonstop throughout the night. Teams were made up of students from diverse academic backgrounds to leverage their different talents and abilities, with ninety different Purdue majors represented. Mentors, consisting of faculty and staff from within the University and professionals from the greater Lafayette area, were matched to each team. Team members brainstormed solutions for 18 hours and then submitted a 60-second video synopsis of their solutions Friday morning.
Both of the winning teams' solutions incorporate leading-edge video technologies that identify conditions and circumstances that the human eye misses. However, due to the proprietary nature of the students' solutions and the desire to keep traffickers unaware of tactics designed to disrupt their illicit activities, additional details of the teams' ideas will not be made public.
1st Place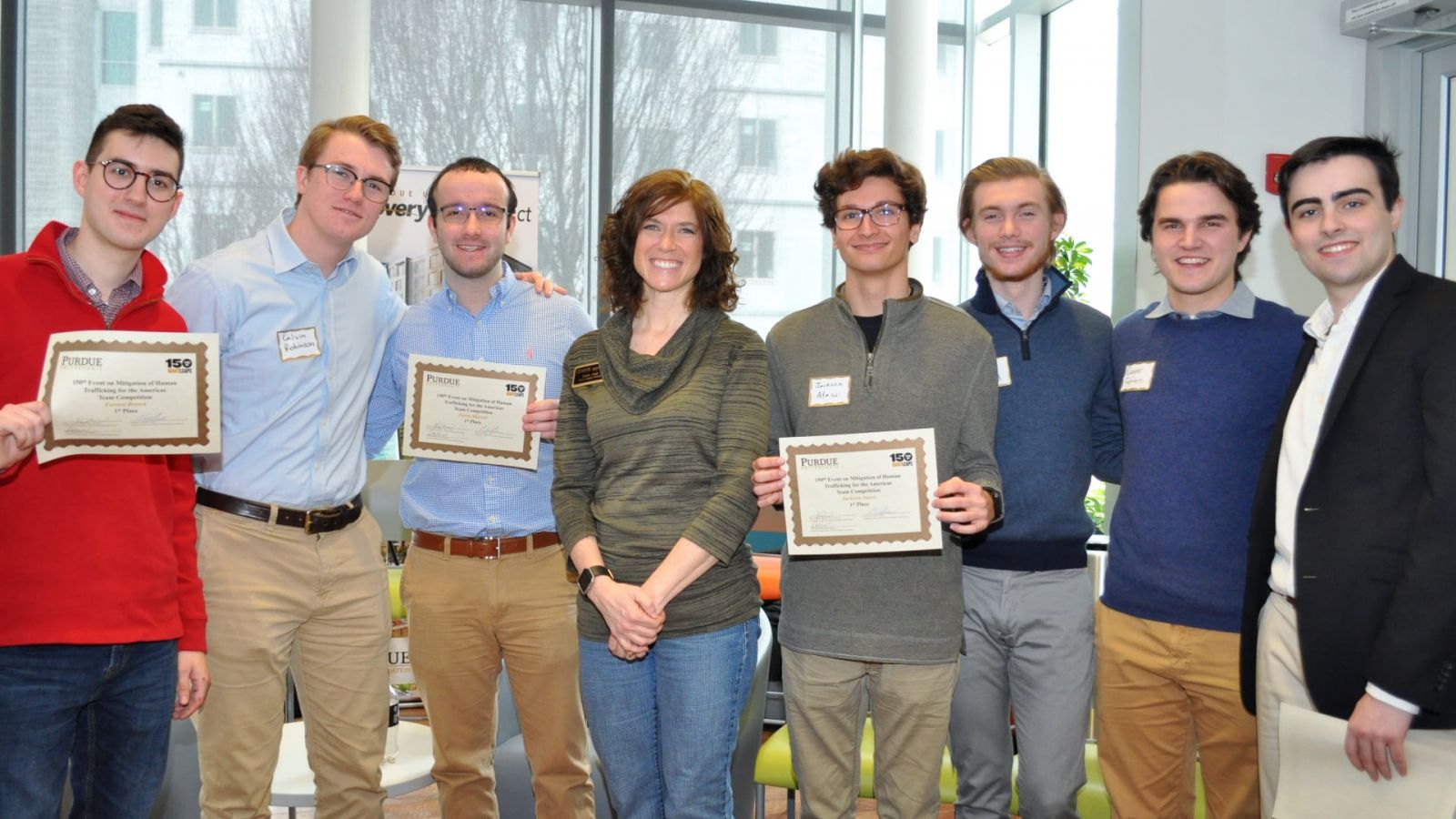 The first-place team consisted of Forrest Brown, junior in applied statistics, Calvin Robinson, senior in general management, Jason Marron, junior in finance, Jackson Atassi, junior in computer and information technology, Logan Bedford, junior in chemistry, Cooper Fetters, junior in chemical engineering, and Gavin Burn, junior in chemical engineering. They won $4,000 for their idea. Their mentor was Dawn Laux, associate department head and clinical associate professor in the Department of Computer and Information Technology.
2nd Place

Jon Gaide, graduate student in biomedical engineering, Mickey Smith, senior in biomedical engineering, Derek Paz, sophomore in exploratory studies, and Adam Killeen, senior in biomedical engineering, comprised the second-place team and won $1,500 for their idea. Their mentor was John Cox, chief, Purdue University Police Department.
The Design Innovation Challenge event aligned with Purdue's Giant Leaps celebration, recognizing the University's global advancements made in health, longevity and quality of life as part of Purdue's 150th anniversary. This is one of the four themes of the yearlong celebration's Ideas Festival, designed to showcase Purdue as an intellectual center solving real-world issues.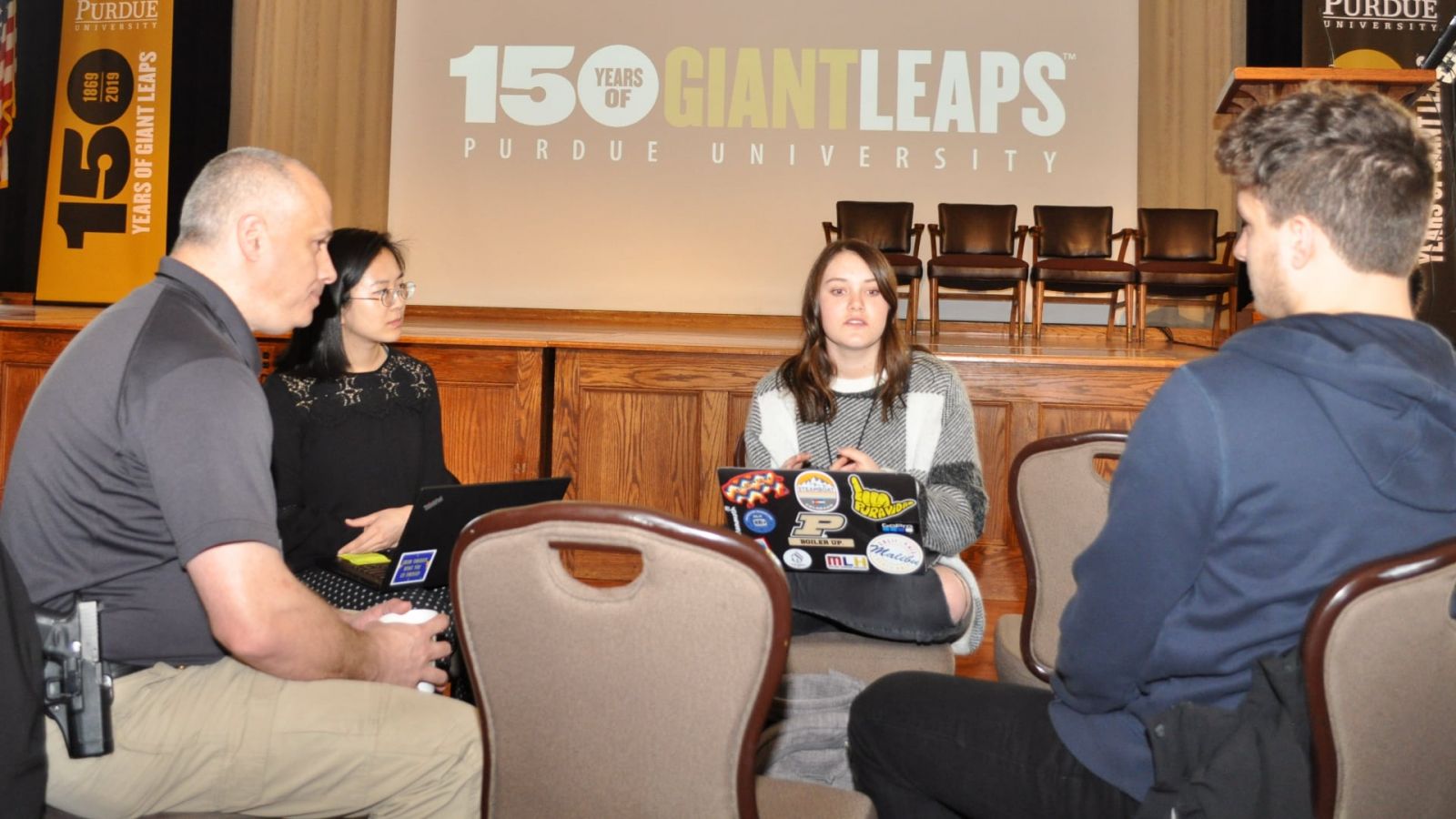 Additional information: