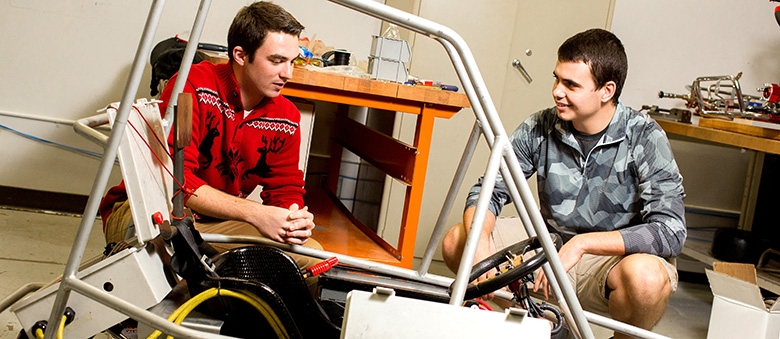 The electric go-kart has been an educational fixture at Purdue Polytechnic South Bend for several years.
"It is used in a summer go-kart STEM camp for high school students, as a test bed for senior design projects and as a laboratory in electrical engineering technology and mechanical engineering technology classes," said Karl Perusich, associate professor of electrical engineering technology. "The response and interest from students has been outstanding."
The popular Electric Go-Kart Summer Camp is in its fourth year at Purdue Polytechnic South Bend. It offers high school students a chance to work with the technology and explore the STEM-related majors available at the location. The final two 2016 sessions are July 14-17 and July 21-24.
Current students also have the chance to test theories and new ideas on the three go-karts the South Bend location owns. Connor McBride and Ben Weiss explored new battery options for the karts that would have greater reliability and functionality. In addition, they changed the layout of one kart's electrical drive train to enhance its mechanical functionality and reliability.
Perusich, his students and the electric go-karts are featured on the Statewide Innovation website.
About Purdue Polytechnic Statewide
Across Indiana, there's a transformation taking place, a new approach to higher education. Where students learn by doing, tackling real-world problems, with business-seasoned faculty mentors, preparing for meaningful careers in industry as entrepreneurs, leaders and makers. The Purdue Polytechnic Institute at Purdue University in West Lafayette offers its programs in nine communities across the state in response to workforce demands. Locations exist in Anderson, Columbus, Indianapolis, Kokomo, Lafayette, New Albany, Richmond, South Bend, and Vincennes.