Justin Brown is no stranger to hard work or to chasing a dream. His dream of running his own successful business has taken him from Colorado ski country to an up-and-coming area of Indianapolis. For the last two years, he has been one of three partners in creating Fountain Square Brewery. He used his background in electrical engineering technology to help automate some of the processes of brewing and bottling for the fledgling brewery.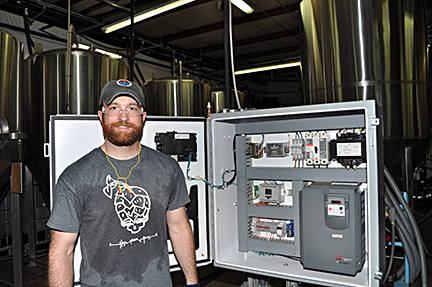 "My automation background is what gave me this opportunity," he said. "My partners have a much larger knowledge base for business and permitting. We made a great team. I was able to offer my education and my experiences with building factories and systems as well as a knowledge of the craft beer scene."
As part of their shoestring budget, they were able to obtain brewing equipment from another brewery that went out of business. Brown built new electrical control panels and enclosures and added a programmable logic controller to operate it all. Finally, he added two touch screen computers for the brewers to help them control the brewing process.
The bottling set-up was created from a similar mish-mash of elements. Brown created a centralized control panel to control all the motors from one place.
"To be able to see the bottling line go from a heap of parts and conveyors to filling beer and to see it go out of the brewery on a pallet – that was a glorious day," he said.
Another glorious day for Brown will be the one where he can work at the brewery full-time.
"I still have a full-time job," Brown says. "New businesses don't start making money for a while."
Until he can make the transition to working for the brewery full-time, he works with his father as a controls engineering manager at Electrical Controls Technology, also in Indianapolis. The company has clients across the country. They work on machine automation, general electrical power jobs, and motor controls.
In fact, Brown remarks, they often use Allen Bradley components for their jobs. He learned how to use them in the College of Technology's Automated Manufacturing Center, located in Knoy 258.
His experiences in the College of Technology, first in building construction management and finally in electrical engineering technology, have served Brown well since he graduated in 2002. He helped install a communication system to relay weather information from the top of a ski mountain to its base. He helped build a ski factory, worked construction and electrical contracting jobs for a city and even taught guitar lessons.
When he returned to Indiana, in addition to working with his father, he started his own business building solar power arrays. The customer base at the time did not exist to make it a successful venture. But Brown kept his eyes open for just the right opportunity.
"You have to be confident in your skills, not be afraid to take a risk and just go for it," he said. "There's no promise that this is going to work at all. Once you go for it, which is exciting, you have to figure out how to make it work."
Brown learned his work ethic and tenacity from his father.
"My dad was a fantastic role model; he's the hardest working guy I've ever seen," he said. "He taught himself and figured out what he had to do to provide for our family."
(photo: Justin Brown shows off the control panel he designed to help automate the brewing process at his brewery in Indianapolis.)