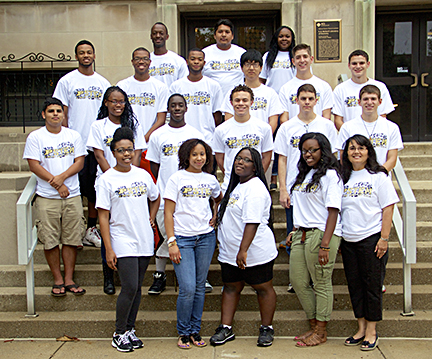 Seventeen students admitted to the College of Technology participated in the five-week STEM Academic Boot Camp (ABC) this summer. The college collaborates with the colleges of Engineering, Science and Agriculture to help students make a smooth academic transition from high school to college.
Technology students came from Indiana, Malaysia, Hawaii, Tennessee, and Pennsylvania. During their five-week experience, the students were immersed in a math, English, spatial visualization and a class related to their major. They also learned about time management, study skills, the MyPurdue system and the Purdue Polytechnic Institute. As they acclimated to campus, they learned how to navigate the campus and about college-level expectations.
Major courses were taught by graduate students: Julius Keller, aviation technology; Amy Wagner, computer and information technology; Zach Koch, electrical engineering technology; Craig Zehrung, mechanical engineering technology; and Saikiran Anasingaraju, computer graphics technology.
At the end of the experience, students participated in a graduate ceremony with family members present. One student from each represented college was invited to publicly reflect on the experience on behalf of their classmates. Jordan Nsonwu, who will student electrical engineering technology, spoke for Technology students (see accompanying video).