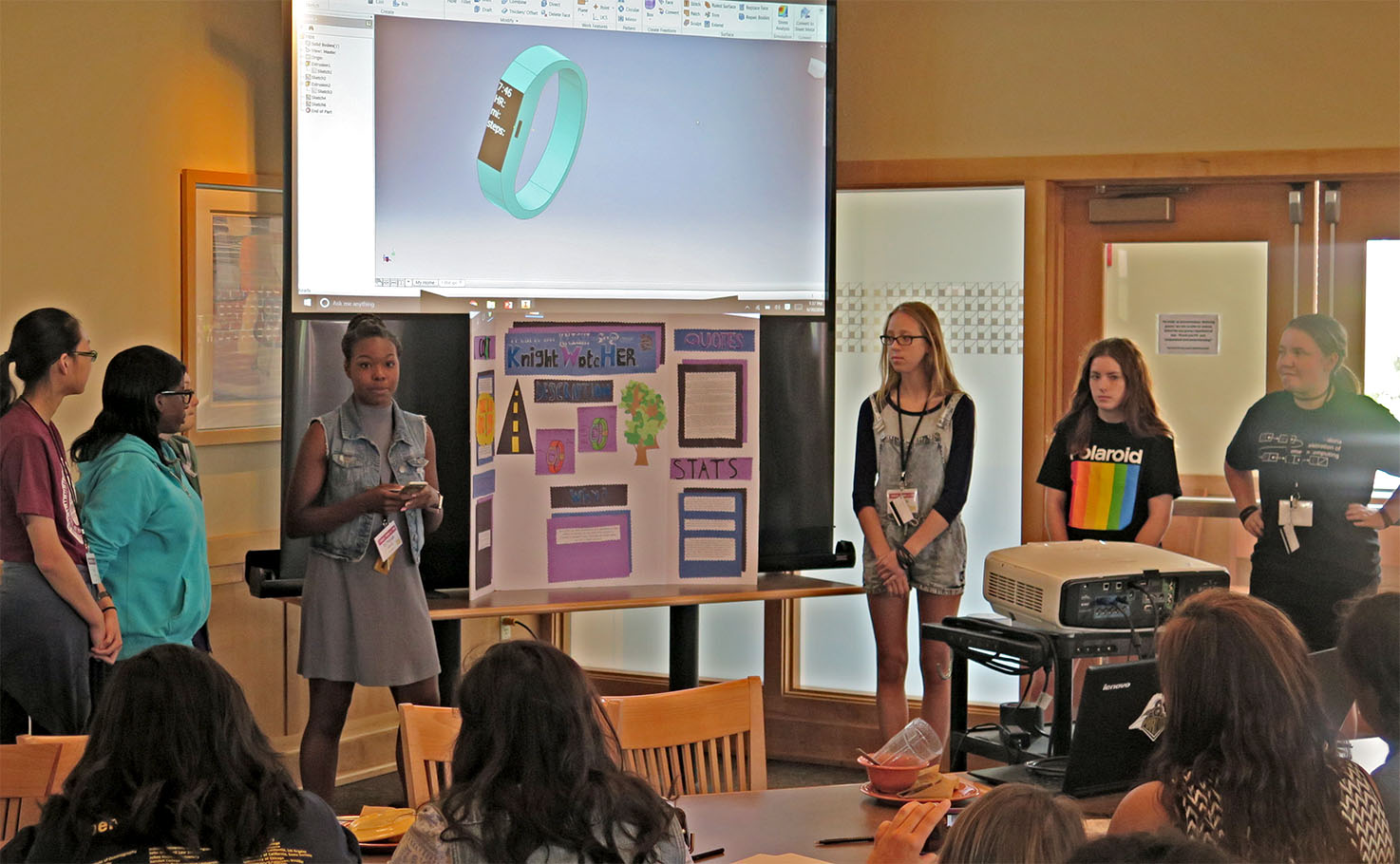 While most of Purdue's students head home or to internships for the summer, Purdue Polytechnic continues its focus on STEM education with camps and workshops. The events reach potential future students as well as those who can help influence their college decisions.
Summer camps
The Office of Recruitment, Retention and Diversity welcomes potential students who are in 8th-10th grade during two camps. They also work with the Girl Scouts of Central Indiana to offer a similar experience.
"We want to expose students and parents to our majors and the way we teach," says Toni Munguia, director of the Office of Recruitment, Retention and Diversity. "They can see our labs and see firsthand the innovation that is happening here."
There are two purposes of the camps: to help participants understand the variety of majors and careers available to them and to increase the number of women and underrepresented minorities who apply and enroll in the Polytechnic's programs.
"Often, these students think they want to be a doctor, lawyer or an engineer or go into business. They don't know about career options beyond that. These camps give them the opportunity to see what is possible," Munguia says.
The efforts have proven fruitful. Participants make connections at the camps that help them discover what interests them; many end up enrolling in the Purdue Polytechnic.
Hailey Turner attended TEAM camp in the summer of 2014. Now a sophomore in mechanical engineering technology in the Purdue Polytechnic, she is thankful she chose to participate.
"Coming from a small rural town, I learned of career options I never even knew existed. It was really eye opening," she said. "We also got to do a lot of demos that gave us a taste of some of the things we would get to do in the technology field. We got to work with simple robots, circuits, windmills, and animation software."
She is also able to provide similar experiences to future Polytechnic students as she works at the TEAM camp, this time as a student.
In addition to reaching future students, the Polytechnic participates in a program for first-year students, STEM Academic Boot Camp. The five-week, on-campus program simulates the students' first semester on campus so they are better prepared for the academic rigor and college-life distractions.
The camps reached 107 students and their parents, and 14 first-year students took advantage of the STEM ABC experience.
PLTW Professional Development Workshop
The annual Project Lead The Way (PLTW) Core Training workshops involved 180 participants and master-teacher instructors. It was the first time the workshops were offered on the Purdue University campus in West Lafayette. Since their inception in 2002, they were offered at the Purdue Polytechnic Kokomo location.
Participants learned a year's worth of PLTW curriculum in a two-week span. When they weren't in the classroom, they were provided opportunities to meet with Purdue Polytechnic professors to learn more about the college's programs and how they relate to certain PLTW classes.
"This is a great way to promote our college to teachers and their students and to prepare their students for the rigor of a Purdue Polytechnic major," says Kevin Kaluf, K-12 STEM education director. "If students like Project Lead The Way classes, we would be a good fit for them to transition nicely into college."
The teachers have already started reaching out to the Purdue Polytechnic contacts they made for more information or to request tours for their students. Kaluf believes those requests will continue as the academic year continues.