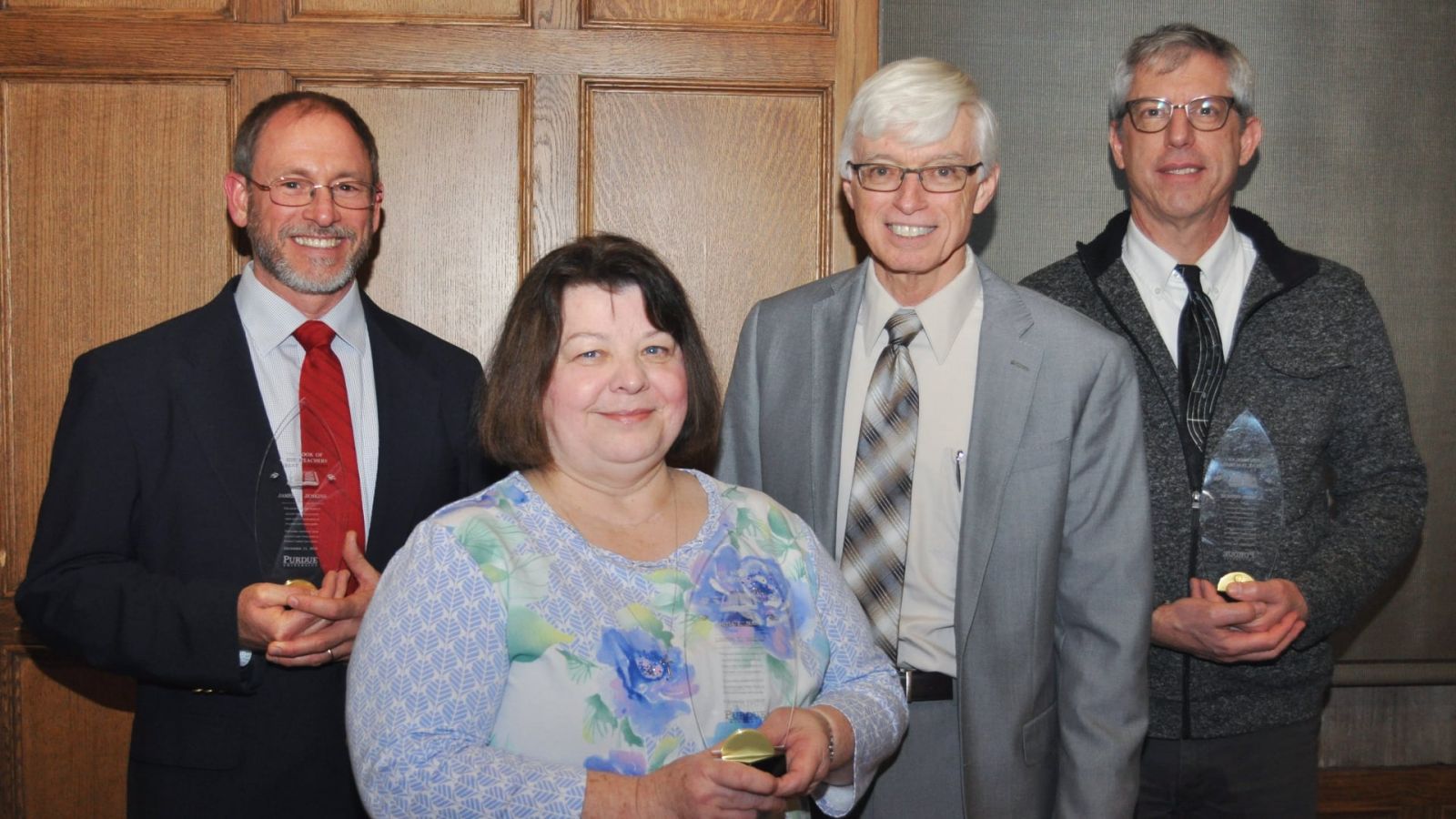 "It's nice to be recognized."
That was the sentiment among the recipients of the "Book of Great Teachers" honor. The award was bestowed on three Polytechnic instructors – R. Mark French, professor of mechanical engineering technology; James L. Jenkins, associate professor of building construction management technology; and Linda L. Naimi, associate professor of organizational leadership and supervision – at a ceremony held Wednesday (Dec. 11, 2018) in the Purdue Memorial Union.
The award "honors outstanding teaching faculty who have demonstrated sustained excellence in the classroom," and is given only every five years. To receive the award, recipients must have at least 15 years of service to the University and be nominated by their students and fellow teachers. Professors with 10 years of service to the University who have received the Charles B. Murphy Outstanding Undergraduate Teaching Award are customarily included in the Book of Great Teachers.
The awards ceremony began with opening remarks from Purdue President Mitch Daniels, who singled out the Polytechnic and the college's learning environment transformation. He praised the "whole new pedagogy" of the college, which includes teaching strategies that incorporate real-world applications "that have already brought great results and will continue to lead to great things."
Gary Bertoline, dean of the Polytechnic and himself an inductee to the Book of Great Teachers, said he was flattered by the president's acknowledgement. "We've worked really hard to raise the quality of education in the college. It's nice to be recognized."
When asked what they liked best about working for Purdue, all three Polytechnic award recipients mentioned their students.
"I love teaching and I love my students," said Naimi. "Purdue offers such a great climate for reaching and teaching students from all walks of life and from all over the world. I love the diversity here and how international we have become. Purdue is changing the world, one person at a time, and I love being part of it. It's because of the students that I'm here and it's because of the opportunity to make a difference in the lives of others that I stay."
Jenkins credited his students with making his job enjoyable.
"They make it fun to come to work every day," he said.
French credited the University for allowing him to have latitude in the classroom.
"Purdue has given me the freedom to do what I like to do and what I think is right for the students," said French. "I take that freedom and I try to do something useful and responsible with it."
After receiving his award, French took out his phone and snapped a photo of it, making sure to get the inscription in focus.
"I gotta send this to my mom," he smiled.
College of Technology / Purdue Polytechnic Inductees to Purdue's Book of Great Teachers

Gregory D. Barnes, Organizational Leadership and Supervision
Richard H. Barnett, Electrical Engineering Technology
Gary R. Bertoline, Computer Graphics Technology
Thomas Q. Carney, Aviation Technology
Dennis R. Depew, Industrial Technology
R. Mark French, Engineering Technology
James E. Goldman, Computer Technology
Larry W. Gross, Aviation Technology
C. Francis Harding, Electrical Engineering Technology
Robert J. Herrick, Electrical Engineering Technology
Charles F. Holleman, Aviation Technology
James M. Jacob, Electrical Engineering Technology
James L. Jenkins, Construction Management Technology
Henry Kraebber, Jr., Mechanical Engineering Technology
Denver W. Lopp, Aviation Technology
Craig L. Miller, Computer Graphics Technology
James L. Mohler, Computer Graphics Technology
Linda L. Naimi, Technology Leadership & Innovation
Dale Oderman, Aviation Technology
Donald A. Petrin, Aviation Technology
Mary A. Sadowski, Technical Graphics
Matthew P. Stephens, Industrial Technology
Herman W. Stoelk, Mechanical Engineering Technology (IUPUI, posthumously)
Jeff Whitten, Computer Technology
Additional information: