As the College of Technology's May 2014 graduates complete their time at Purdue, we are profiling a few and finding out their future plans and how they arrived at this point in their lives.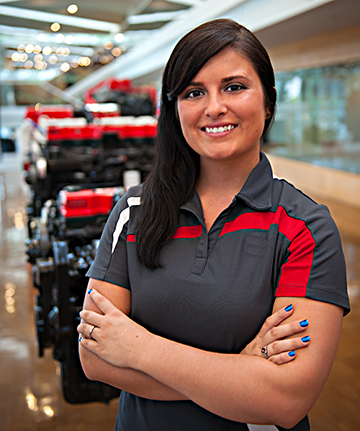 Kimie Bates, Terre Haute, Ind.
Productivity improvement coordinator for DuPont Pioneer in Worthington, Ind.
Education
Bachelor's degree in organizational leadership and supervision, certificate in entrepreneurship and innovation
Job duties
Assist management team as it executes business plans and goals through the use of business improvement methods.
Coordinate and maintain business management improvement system.
Provide coaching to location management team.
Facilitate and coordinate plant level training, project generation and prioritization process, and improvement project portfolio for the location.
Purdue classes that helped Kimie prepare for her job
Leadership Strategies for Quality and Productivity
Conflict Management
Leadership in Organizational Change
Leadership Through Teams
Other ways the College of Technology and/or Purdue provided preparation and assistance
The faculty in the Department of Technology Leadership and Innovation (TLI) have been there for me every step of the way these last four years. Whether I needed help in a class, was looking for an internship, or just needed some advice, they were there to help.
The great opportunities that were made available to me by the College of Technology also helped me immensely. These include the 2012 Hatton W. Sumners Undergraduate Leadership Conference at University of Texas at Austin, my study abroad trip with the Technology, Innovation and Culture in Bavaria program, and more.
Thanks go to:
My family, my boyfriend Cody, and my friends for always believing in me, supporting me, and encouraging me to take advantage of every opportunity available while I was here at Purdue.
The entire TLI faculty and staff, especially Debbie Tutak, for always being there when I needed her; Jennifer White and Sharon Kraebber, for always going above and beyond their call of duty for me and the other students; Jill Albrecht for the priceless career advice; Dan Lybrook, for always having my back; and last but not least Rodney Vandeveer, for introducing me to the amazing world of process improvement that I will start my career in. All of these individuals were always more than willing to give me the advice and support I needed to make it through these last four years, and I couldn't have done it without them!
Everyone who is a part of the Student Success office and Purdue Promise program for the support and open doors they have provided for me from day one.