As the May 2016 graduates move into their careers, we are profiling a few and finding out their future plans and how they arrived at this point in their lives.
-----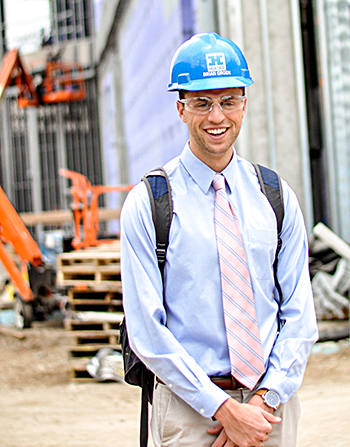 Brian Groen, Zionsville, Indiana
Office Engineer for Holder Construction in Washington, D.C.
Education
Bachelor's degree in building construction management
Job duties
I will more than likely be working on project submittals and RFIs (Requests for Information) and working with the architect/owner/engineer to solve issues in the project documents or on-site. I will also be in charge of several trades. At the end of the day I am going to do whatever the team needs me to do in order to stay on schedule and under our budget and deliver a quality product, all while maintaining a safe working environment.
Purdue classes that helped Brian prepare for his job
Our course curriculum is really awesome, and most of our courses are specific to what we will be doing in industry. We have various classes that help us in different areas like construction estimating, project management, construction mechanics (statics), electrical and mechanical, 3D modeling, site management, and safety. However, my favorite class would have to be our capstone class. We had to use all of the knowledge obtained from both our studies and our internships towards a very realistic final project where we act as a construction company bidding a local project.
Other ways the college and/or Purdue provided preparation and assistance
Having Purdue on my resume gave me a lot of confidence going to interview sessions in other areas of the country. In Construction Management we are required to have at least 800 hours of work experience. We have an amazing career fair where we can talk with 120+ contractors from around the United States and get summer internships to work towards that 800 hours.
I worked for three different companies: Gaylor Electric, Balfour Beatty Construction, and Holder Construction. I worked in three different locations as well: West Lafayette, Charlotte, and Phoenix. Internships are great because you get a taste of the real world. You have the opportunity to learn so much from the people around you. You also learn a lot about yourself as a person being out on your own: how you handle stress, what is truly important to you. The internships are where we learn the most as students; it also provides a lot of us with the opportunity to travel a bit. We need the practical experience, and to have the opportunity to get a head start on obtaining that knowledge in college is huge. We have professors with industry experience and tons of clubs to get involved with that have various philanthropic events, competition teams, leadership opportunities, meet and greet with contractors, or jobsite visits.
Thanks go to:
I am so blessed to have known so many awesome and encouraging people.
My parents, Eric and Susan, would have to be first as they raised me to be the man I am today and I have learned so much from them.
My sister and brother-in-law, Kristen and Kyle Fletcher, for being such great examples as older siblings and for showing me what hard work and dedication looks like.
My friends, for the good times and the bad and for being there through both.
I would thank the Body of Christ for always being supportive, pushing me back to Christ, and for running the race of endurance alongside me.
Lastly, I would thank my Heavenly Father for placing all of these amazing people in my life and for sending His one and only son to live the perfect life and be the ultimate sacrifice so that we can be one with Christ. Many people that have touched my life are amazing role models, however, Christ's son Jesus was the ultimate role model and I strive to be more like him daily.