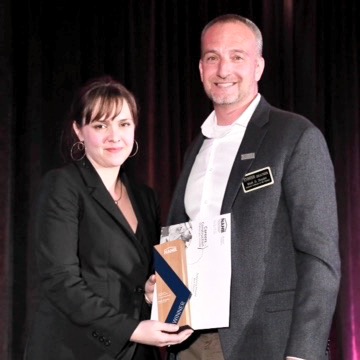 Mark Zimpfer, assistant clinical professor in the School of Construction Management Technology, was honored with the Outstanding Junior Faculty Award at the National Association of Home Builders' International Builders Show in January of 2018. The award recognizes and encourages high-quality standards in teaching construction education. Educators are recognized for their voluntary extracurricular activities, activities with construction industry organizations, as well as their construction experience and professional activities. Nominations are made by fellow faculty members, students, construction professionals, or by their local Home Builders Association.
In 2016, Zimpfer was busy running Zimpfer Construction, Inc., when he was asked to fill in for a construction management technology faculty member who was on maternity leave. "Now, I spend 90 percent of my time being a teacher," said Zimpfer.
His builder's perspective and business acumen ensure his construction management technology students learn the skills needed for a successful management career. "They're prepared to work immediately upon graduation."
Zimpfer received his master's degree from the School of Construction Management Technology. He has 29 years in the homebuilding industry, including 20 as the president of his own firm. He continues building to stay current in the industry and provide a living classroom for his students.