Munich University of Applied Sciences (Munich, Germany) Semester Exchange
Spend the semester in the heart of Munich and study in English!

•Learn advanced management skills and technologies
•Be exposed to different learning styles
•Experience different cultures by meeting people from different countries and traveling around Europe
•Application deadline for Spring semester is September 15
This program is eligible for a Purdue University Travel Grant.
MUAS Curriculum (not all inclusive)
•Production Technology
•Driving Dynamics
•Electronics & Electric Drives
•Vehicle Electrical Systems
•Combustion Engines
•Business Language: English 2
•Finance & Investment Management
•Marketing & Sales: Basics
•Production Technology
•Production Management
•Business Planning & Organizations
New for Technology, Leadership, and Innovation Polytechnic Students: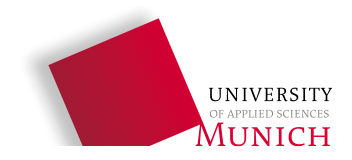 Study technology, innovation, manufacturing, leadership, sustainability, quality, or other interdiscipinary fields during this semester-long opportunity at Munich University of Applied Sciences in Munich, Germany.
Through a partnership with the Purdue Polytechnic Institute and the Department of Technology Leadership & Innovation (TLI), you have the opportunity to apply all classes you take as part of this exchange toward your Purdue degree (see the qualifying courses below, for both undergraduate and graduate programs).
Features and benefits:

Experience vibrant European cultures, foods, sports, music, and historical sites.
Build your German language skills (while still taking classes in English!).
Pay Purdue tuition and German housing costs.
All study abroad expenses qualify as normal university expenses when you are being considered for financial aid.
By following the approved course list, you won't delay your graduation -- you'll just be working toward your degree in a different country.
For more information, contact your academic advisor, or one of the professors involved with the exchange (Michael Dyrenfurth, Steve Elliott, Kathy Newton, Edie Schmidt or Ragu Athinaryanan).
Additional information:

---
Undergraduate course equivalents

(On the MUAS side, W is equivalent to the U.S. fall semester; WS is equivalent to the U.S. spring semester. Their semesters start about six weeks after Purdue's.)
Purdue Course

Cr

Sem

MUAS Courses taught in English

ECTS

Sem

TLI 33400 Economic Analysis for Technology Systems

or

TLI 41400 Financial Analysis for Technology Systems

3

Finance & Investment Management

4

S

Technical Elective

3

Embedded Systems

4

WS

IT 38500 Industrial Ergonomics

or

TLI 33520 Human Factors for Technology Systems

3

Ergonomics & Practical Training

3

WS

MGMT 32300 Introduction To Market Analysis

3

Marketing

4

WS

TLI 34300 Technical and Service Selling

or

TLI 34350 Business to Business Sales Management

3

Marketing & Sales

4

W

TLI 43530 Operations Planning & Management

or

TLI 33610 Risk Analysis & Assessment

3

3

Management Decision Making Supported by Data Analysis

4

WS

TLI 45800 Leadership for Competitive Advantage

or

TLI 31400 Leading Innovation in Organizations

3

Change management

or

Leadership Management

5

4

WS

TLI 43640 Lean Six Sigma

3

Lean Six Sigma

4

WS

Leadership Elective

or

OLS 58300 Coaching & Mentoring in Organizations

3

Consulting Skills

4

S

Technical Elective

or

TLI 31500 Innovative Product Development & Testing

3

Simulation Technology with MATLAB/SIMULINK

4

W

TLI 44275 Global Transportation & Logistics Management

3

Inbound & Outbound Logistics

4

WS

Technical Elective

3

Aerodynamic Principles for Automotive Design

4

W

Technical Elective

3

Engineering Mechanics

5

W

MET 230 Fluid Power
3
Hydraulic and pneumatic systems
5
Graduate course equivalents
(On the MUAS side, W is equivalent to the U.S. fall semester; WS is equivalent to the U.S. spring semester. Their semesters start about six weeks after Purdue's.)
Purdue Course

Cr

Sem

MUAS Courses taught in English

ECTS

Sem

OLS 57800 Developing a Leadership Philosophy

3

any

People Leadership

4

S

Tech 621 Technological Innovation

3

any

Innovation Management

4

WS

Elective

or

OLS 57000 Leadership across Cultural Boundaries

3

any

Technical Marketing

5

WS

TLI 34300 Technical & Service Selling

3

any

Technical Product Management & Sales

5

WS

TLI 43640 Lean Six Sigma

or
TECH 581- Enterprise Six Sigma

3

any

Lean Management & Lean Administration

5

WS

Elective

3

any

Management across Borders & Cultures

5

WS

Elective

or

TLI 598/698 Dir Project/Thesis Research

3

any

International Project with a partner university abroad

5

W

Elective

or

OLS 58800 Strategic Planning & Marketing for Technology

3

any

Strategic Planning for Engineers

5

W

TLI 45700 - Technology Policy & Law

or Globalization Portfolio

3

any

Technical Harmonisation in Europe & International Trade Law

5

S

TLI 44275 - Global Transportation and Logistics Management

3

any

Green Logistics and Sustainability

5

WS