Windows of Opportunity for Women in Technology

Available to 9th - 12th graders.
Purdue is bringing a day of fascinating technology directly to you on campus! The event is called WOWiT: Windows of Opportunity for Women in Technology and we hope you will join us. During the in-person WOWiT event, we'll have break-out sessions, where you'll take a deeper dive into Purdue Polytechnic's different technology-centric subject areas.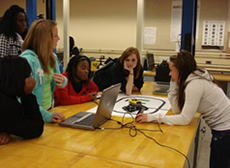 Time: 9:00 a.m.-4:00 p.m. Eastern Time
Date: Friday, September 30, 2022
Place: Purdue University (In-person)
Cost: $40 (price covers one student and one parent/guardian)
Register

Enrollment is limited to 60 students.
If additional information is needed or you require an accommodation or special assistance due to a disability, email techrecruit@purdue.edu or call 765.494.4935.
Questions?

Contact the Polytechnic main office
765-494-4935
techrecruit@purdue.edu
Individuals of all races, genders and backgrounds are welcome.