Windows of Opportunity for Women in Technology

You can make a difference at the Purdue Polytechnic Institute!
Available to 9th - 12th graders.
WOWiT is a one-day, multi-workshop experience that introduces technology to young female minds. High school women and their parents or guardians will take separate tracks and learn how "technology" refers to more than just the latest gadgets. Technology is a way of thinking about today's challenges and overcoming them with innovation, creativity and problem-solving skills.
Bring a family member (a parent or guardian) and discover the world of opportunity that awaits at the Purdue Polytechnic. You will be able to experience technology projects firsthand. You'll see technology applied in a variety of ways. You'll see how technology can impact lives, individually and on a grander scale.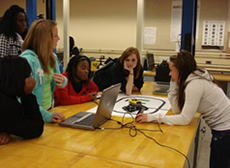 Camp Date

WOWiT is scheduled for October 19, 2019.
Cost and Accommodations

The WOWiT program is free. The day's activities include a continental breakfast and lunch for the registered student and one parent/guardian. Additional lunches for siblings and parent/guardian are available for $15 each.
Register

Enrollment is limited to 60 students.
If additional information is needed or you require an accommodation or special assistance due to a disability, email techrecruit@purdue.edu or call 765.494.4935.
Questions?

Contact the Polytechnic main office
765-494-4935

This program is sponsored by Alcoa, Caterpillar.