Windows of Opportunity for Women in Technology

You can make a difference at the Purdue Polytechnic Institute!
Available to 9th - 12th graders.
Come to campus and find out how technology is more than a machine or a gadget. It is a way of thinking about today's challenges and overcoming them with innovation, creativity and hard work.
Bring a family member (a parent or guardian) and discover the world of opportunity that awaits at the Purdue Polytechnic. You will be able to experience technology projects firsthand. You'll see technology applied in a variety of ways. You'll see how technology can impact lives, individually and on a grander scale.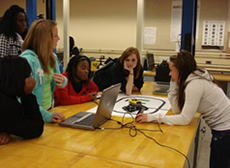 Camp Date

WOWiT is schedule for September 29, 2018
Cost and Accommodations

The WOWiT program is free. The day's activities include a continental breakfast and lunch for the registered student and one parent/guardian. Additional lunches for siblings and parent/guardian are available for $15 each.
Register

Registration has not yet opened. Fill out this form to get on the waitlist.
Questions?

Contact Danita Dolly
Assistant Director of Retention and Diversity
765-496-0096
techrecruit@purdue.edu
This program is sponsored by Alcoa, Caterpillar, United Technologies, and Eaton Corporation.