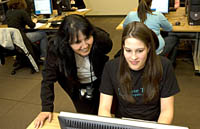 Purdue Polytechnic Institute offers you a world of opportunity... Discover what college is all about and whether a technology degree is the path you'd like to pursue after graduation by attending a Technology Camp program.
Globally viewed as one of the largest and most renowned technology colleges, the Polytechnic offers degree programs within six departments and schools:
Sponsored by the college and its corporate partners, our Camp experiences include:
Many hands-on experiences, such as developing construction plan, working on computers, and exploring sound through electronics
local field trips
guided tours of the campus
opportunities to socialize with other students that have similar interests and aspirations
Our summer and diversity camps are hosted by the Office of Recruitment, Retention and Diversity.