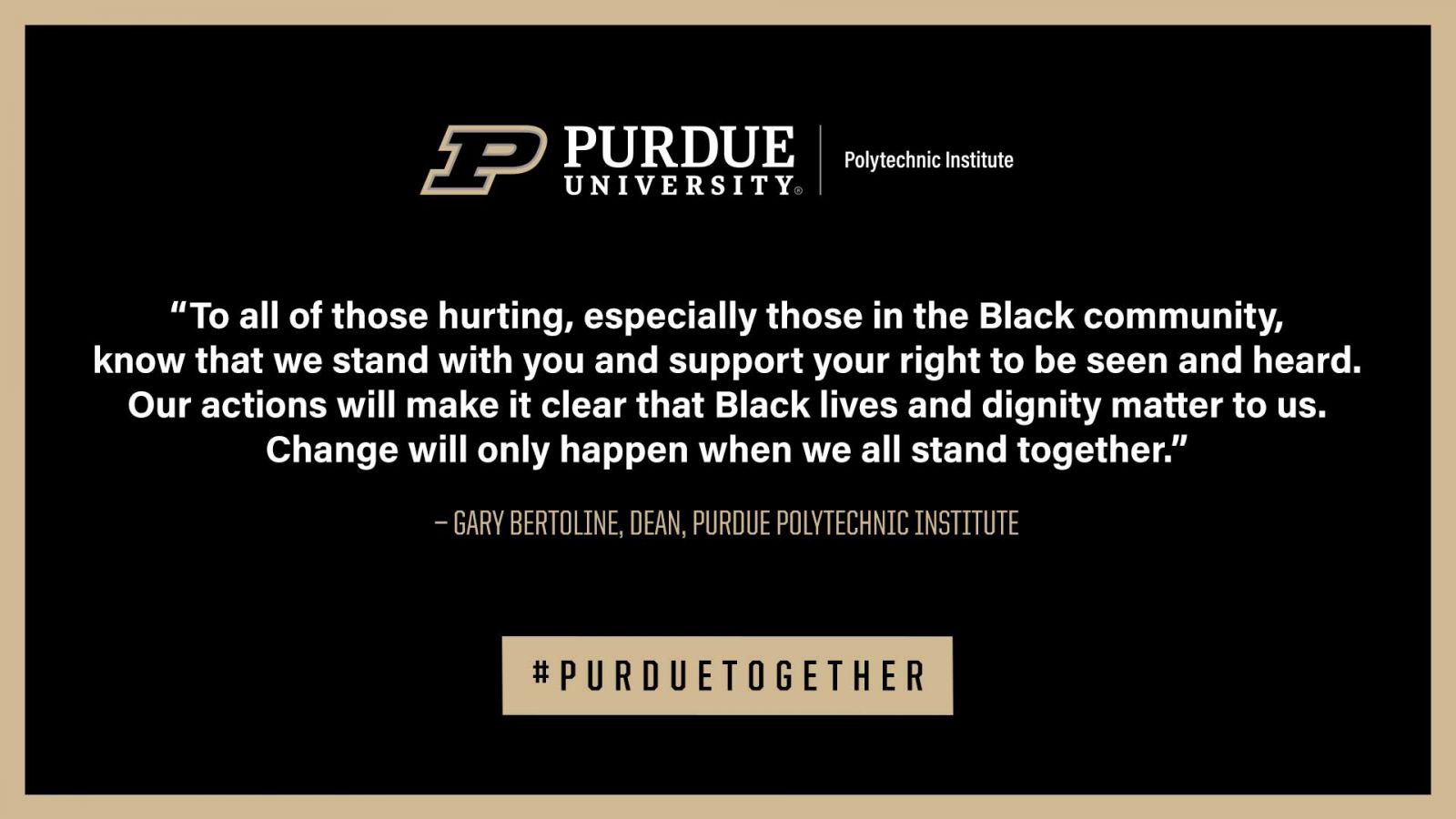 I feel I need to say something but am not sure what to say. I cannot fathom what it is like to be a person of color living in the U.S. In the last few weeks, we have witnessed the inhumane murder of George Floyd and Amy Cooper's abuse of white privilege. These acts of injustice were preceded by the murders of Ahmaud Arbery, Breonna Taylor, and so many others over the years. These acts diminish all of us and sitting in silence seems wrong.
It sickens me to see these acts of violence against people of color in this nation. It saddens me to think about what these acts of violence are doing to the psyche of millions of people of color. For someone who lived through the Civil Rights movement as a child, it is beyond my comprehension that we seem to be sliding back instead of moving forward and improving.
To all of those hurting, especially those in the Black community, know that we in the Polytechnic Institute at Purdue stand with you and support your right to be seen and heard. We affirm that Black Lives Matter. I won't pretend to fully understand or even speculate what you're going through, including the injustice you may face daily.
Martin Luther King, Jr., perfectly expressed the humanity of interconnectivity and interdependence when he said, "Injustice anywhere is a threat to justice everywhere. We are caught in an inescapable network of mutuality, tied in a single garment of destiny. Whatever affects one directly, affects all indirectly."
We can disagree about who's to blame for the problem and we can disagree about the solution, but we have to admit that the problem exists, and we have to insist that a solution must be found. We can start by educating ourselves on the root causes of the problem, which start with an economic system severely tilted against people of color. The justice system is another area that is in need of change. I suggest watching the documentary titled "13th," written and directed by Ava DuVernay, to better understand the injustice perpetrated on people of color.
We also have an education system that is grossly unfair toward people of color. Silence and inaction equal consent, so we commit to speaking up and taking action to fight injustice, inequality and discrimination. We created the Polytechnic High Schools to try and address the inequities in education. However, we know we can do more both individually and collectively. Therefore, to those who want to help, consider reaching out to the principals at one of our three Polytechnic High Schools: two in Indianapolis and the new one opening in South Bend. Consider becoming a tutor; propose projects, courses, units of study or other ways to improve teaching and learning; and actively engage in increasing educational opportunities for our high school students.
I will be working with John Gates, vice provost for diversity and inclusion, to investigate and address any racial inequities that may exist in our college. Our actions will make it clear that Black lives and dignity matter to us.
I know how important it is to listen and learn when people with lived experiences are speaking. I hear you and I urge everyone in the Polytechnic Institute to better educate yourself. Listen, reflect and find ways to actively make a difference. Change will only happen when we all stand together.