Over the past few weeks, we have witnessed the launch of an updated Purdue University brand. In addition to visual changes, which include an updated logo, new fonts and a supporting color palette, the new University brand provides a fundamental statement that underscores who we are as a university:
Purdue University is about the persistent pursuit of innovation where people bring their best and learn to build a better world together.
Or, more simply:
Persistent innovation. Together.
I am thrilled to see a University-wide brand that so aptly applies to our college. Over the course of the Polytechnic's transformation, and in our ongoing efforts to create exciting new opportunities such as the Gateway Complex, I have seen many of our faculty and staff embody this spirit of never giving up. Always pushing to grow and improve. Tirelessly supporting our students as they achieve small steps and giant leaps of their own.
I look forward to seeing how our college rallies behind the University brand to strengthen the stories we share about our students, our research and our progress.
Boiler up!
Purdue & Polytechnic brand resources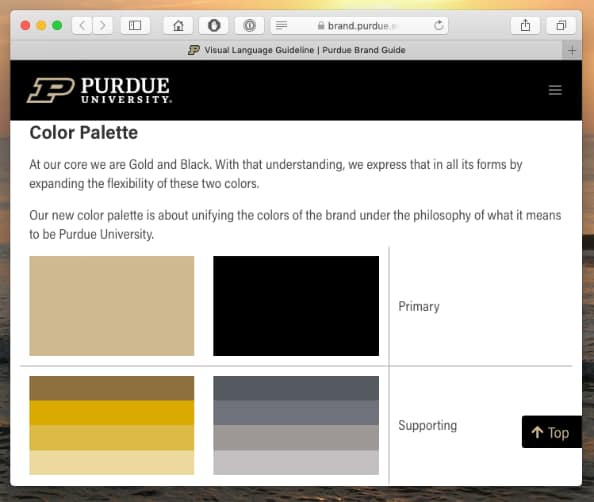 "Does this apply to me?" If you are a Purdue faculty, staff or student and you create materials that represent the University, then yes, it does! Every web page, publication, poster, banner and promotional item that represents the Purdue Polytechnic Institute helps tell our story. That story and brand, as part of the larger Purdue University brand, is stronger and more compelling when there is consistency in graphics, fonts, colors and messaging.
Guidelines for the "Polytechnic voice," Polytechnic-specific versions of Microsoft PowerPoint templates (updated for 2020) and other resources are available on our college's website at polytechnic.purdue.edu/brand-guide.
Learn more about the University brand, including the official color palette, fonts, photography guidelines and more, at brand.purdue.edu. If you have questions, our Office of Marketing and Communications can help; email techcomm@purdue.edu.