Certified Information Systems Security Professional (CISSP) Credential Training Course

Purdue's CISSP course is a comprehensive online boot camp that teaches information security professionals cross-domain advanced knowledge and technical skills in designing, developing and managing an organization's security program. It also prepares those professionals for the CISSP certification exam.
The Purdue official (ISC)² CISSP common body of knowledge workshop and examination make up an intensive program that covers a comprehensive collection of information security best practices. The eight security domains that will be covered are security and risk management; asset security; security architecture and engineering; communication and network security; identity and access management; security assessment and testing; security operations; and software development security.
The CISSP credential is for those who wish to master the world's best practices, validate a broad understanding of management and technical competency in their field, and prepare for the (ISC)² examination. CISSP is an advanced certification for professionals with at least five years of experience.
Following the course, individuals will be well prepared to take the CISSP certification exam.
What's Included:

Live instructor-led training
Access to a lab platform that allows hands-on practice
Access to CertMaster Practice, a set of practice tests and real-time feedback that helps you train for the exam
Access to the electronic textbook
An exam voucher
How It Works:

Course Length: 5-Day Bootcamp
Schedule: M-F 8:00 a.m. - 5:00 p.m. (EST)
Format: 100% online, instructor-led live sessions
Course Start: June 7
Meet the Instructor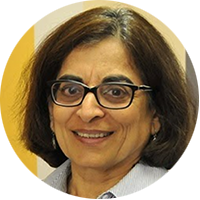 Meenaxi Dave
Information Security Educator
Meenaxi Dave has been an instructor since 2012 and has taught 1000+ students. Dave is an experienced information security educator with proven success developing, delivering and evaluating IT security training programs for college-level students. She is a recognized technology leader with experience in healthcare, banking and academic environments. Dave has served on multiple nonprofit boards like ISSA, InfraGuard and as a Chair for SkillsUSA computer contest. Dave has spoken at Cybersecurity conferences like Secureworld USA, ISSA, and Women in Technology. She is a certified EcCouncil Instructor for CEH Master, CND & CCISO, and certified ISC2 Instructor for CISSP. Her professional certifications include CCISO, CISSP, CEH Master, CND, CompTIA Security+, Network+ and Linux+. Dave earned her master's in computer science from the University of Memphis.
Experience Requirements

Candidates must have a minimum of five years of cumulative paid work experience in two or more of the eight domains of the CISSP CBK. Earning a four-year college degree or regional equivalent or an additional credential from the (ISC)2 approved list will satisfy one year of the required experience. Education credit will only satisfy one year of experience. A candidate that doesn't have the required experience to become a CISSP may become an Associate of (ISC)2 by successfully passing the CISSP examination. The Associate of (ISC)2 will then have six years to earn the five years required experience. You can learn more about CISSP experience requirements and how to account for part-time work and internships at www.isc2.org/Certifications/CISSP/experience-requirements.
Request More Information

Benefits of the Program

This course leverages the resources and expertise of Purdue, one of the world's leading educational institutions, and sets the standard for CISSP preparatory training.
Students gain critical expertise needed for the (ISC)² CISSP exam; course graduates have one year to take the exam.
It's a 100% online course, but you still have live sessions with faculty to get that hands-on learning experience.
Who Needs This Course

Chief Information Officer
IT Director/Manager
Network Architect
Security Analyst
Security Architect
Security Consultant
Security Manager
Security Systems Engineer
Why a CISSP Credential?

On average, (ISC)² members report earning 35% more than non-members.
This certificate is vendor-neutral, so skills obtained can be applied to different technologies and methodologies.
Meets U.S. Department of Defense Directive 8570.1.
The first information security credential to meet the strict conditions of ISO/IEC Standard 17024.
The average CISSP salary, stated by (ISC)², is US $131,030.
Registration

Course Starts: June 7, 2021
Course Length: 1 week
Schedule: M-F 8:00 a.m. – 5:00 p.m. (EST)
Cost: $3,750
Achieving CISSP certification is an important career decision. The right preparation can make all the difference for the individual and the organization. Contact us at centr@purdue.edu to discuss further.