Fred Fehsenfeld's passion for flight and his memories of the Purdue Glider Club in the 1940s have never faded, even though he retired from flying 20 years ago. When he learned from a current flight student that his beloved gliding club had been defunct for several years, Fehsenfeld wanted to help today's flight students experience the joy of soaring that only gliders can provide.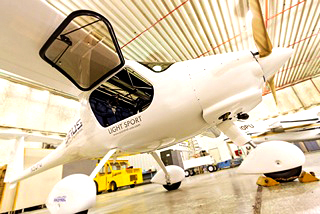 Fred and Barbara Fehsenfeld were on campus Jan. 14 to help unveil their gift to the College of Technology and the Department of Aviation Technology: a Pipistrel Sinus glider. The glider will be named Sky Dancer and will usher in a new era of glider instruction for Purdue professional flight students.
"Gliders fly differently than airplanes, but they share all of the same components," said Robert Moser, manager of Purdue's flight simulation center and a certified glider instructor. "You can point to many airplane accidents that have been attributed to a lack of basic flying skills. Flying gliders is very much getting back to the basics of flying. This type of flying is new to many of today's flight students."
Students who fly the glider will also earn flight hours, which are necessary for certification and certain pilot jobs after graduation.
Professional flight major Michael Pence will serve as president of the new Purdue Soaring Club. Club members will have access to glider resources and a glider flight simulator as part of the new Soaring Center created in conjunction with the Fehsenfeld gift. The Soaring Center will be housed in the Holleman-Niswonger Flight Simulation Center at the Purdue Airport.
Moser said the club will reach out to soaring clubs in Indiana to help build their skills and their flight hours. They also hope to help with glider instruction.
Because gliders are fuel efficient, the Soaring Club also plans a contest among members to test their ability to make cross-country flights with the least amount of fuel.
The Pipistrel Sinus is a motorized glider, which will provide a slightly different experience than Fehsenfeld had in 1941 as a new member of the Purdue Glider Club.
"New members primarily did the manual labor of pulling the nylon line out to the glider from the Model A spool and keeping the wings level as the glider gathered momentum on take-off. For this kind of labor we were rewarded with glider lessons," Fehsenfeld said.
His first glider lesson, at the age of 17, was a memorable one.
"My first lesson was terrific, but unfortunately we got too far from the airport and made a force landing in a cow pasture," he recounted. "My instructor hitchhiked back to the airport to get a truck, and I was instructed to get a stick and defend the glider from the cows as they had a liking for banana oil that was used to glue the glider cloth to the frame."
Fehsenfeld enlisted in the U.S. Army Corps on his 18th birthday. He flew 86 missions in World War II as a fighter pilot. After the war, he returned to Purdue and graduated with a degree in mechanical engineering.
In the News: