Program Objectives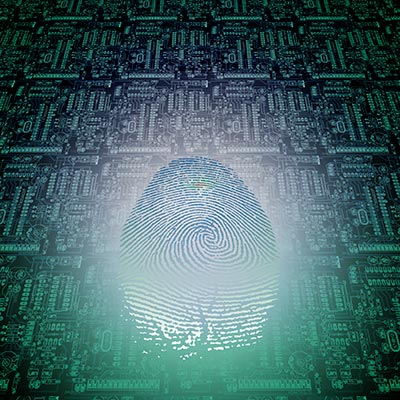 The Biometrics area of concentration is a traditional on-campus plan of study with the flexibility of a professional degree. This program was developed with guidance of alumni, biometric professionals, and companies who helped us identify the core skills needed for producing successful graduates. The curriculum used in this program is a reflection of their advice, plus it takes into consideration the changing environment of biometrics, especially given the rapidly changing technology. In addition to a thesis, students earn a digitally shareable resume-of credential that confirm the mastery of critical skills.
The program presents a unique opportunity for students to build their academic and professional portfolios in the field of biometric technologies on topics such as biometric imaging, biometric matching, biometric entropy, biometrics standards, biometrics privacy and legal issues, biometric storage and data management systems. Students enrolled in the program will also be exposed to examining biometric standards and review materials on US national body of standards development. In the International Center for Biometrics Research (ICBR), which is also the research laboratory associated with this program, students will research into biometrics technologies for security, access control, and the authentication of individuals using iris, face, finger, hand geometry, dynamic signature verification, skin analysis, and voice recognition using latest algorithms, tools, and equipment. While working in the ICBR, students will be embedded into active research groups matching their research interests. Apart from developing technological skills, students will also develop project management and leadership skills.
Faculty Involved

Key professors involved in the program include, but not limited to:
Program Plan of Study

The MS TLI core courses support research and project management in technological contexts. In addition to the major courses, this area of concentration requires five courses. The additional courses align with development of student's specialization, both in developing their professional expertise and research capabilities.
MS TLI Core (18 cr)

| Course Number | Course Title |
| --- | --- |
| Tech 64600 | Analysis of Research in Industry and Technology (3 cr) |
| IT 50700 | Measurement and Evaluation in Industry and Tech or STAT 501 / 511 (3 cr) |
| IT 50800 | Quality and Productivity in Industry and Technology or STAT 502 / 512 (3 cr) |
| IT 57100 | Project Management in Industry and Technology (3 cr) |
| TECH 69800 | Thesis (6 Cr) |
Specialization Courses (15 cr)

Course Number

Course Title
IT 54000
Biometric Performance and Usability Analysis
IT 54500
Biometric Technology and Applications
IT 59000 or CS 59100
Seminar in Biometrics or Info Sec & Cyber Crime Seminar
IT 65700 or IT 65800

Fingerprint Performance and Usability or Biometric Systems Interoperability: Applications and Challenges

CS 52600 or MGMT 68400 or TECH 52100 or IE 57700 or IE 59000
Information Security or Information Security for Managers or Introduction to AIDC

or

Human Factors in Engineering or Topics in Industrial Engineering
Admission requirements, application process, and deadlines

Supporting Documents: Additional documents are required to support the application. Supporting documents should be uploaded to the online application to the graduate program:
Transcripts
GRE Test
English Proficiency
Recommendation letters
Statement of Purpose - see information under Completing the Application
Resume - 1-5 page resume to be uploaded in the application
Master's Degree Program Basic Requirements

Undergraduate Cumulative Grade Point Average: 3.0 or equivalent required for unconditional admission
Graduate Record Examination (GRE): Required -- no minimum score has been set
International Applicant Requirements

Undergraduate Cumulative Grade Point Average: 3.0 or equivalent required for unconditional admission
Graduate Record Examination (GRE): Required -- no minimum score set
TOEFL for Non-Native English Speakers:
Minimum Paper-Based Test (PBT) Score Required: 550
Minimum Internet-Based Test (IBT) Overall Score Required: 77
With the following minimum section requirements: Reading: 19, Listening: 14, Speaking: 18, Writing: 18
IELTS (Academic Module): An alternative to the TOEFL, scores of 6.5 or higher will be accepted
Pearson Test of English (PTE) (Academic Module): An alternative to the TOEFL, scores of 58 or higher will be accepted
TWE for Non-Native English Speakers: Not required, but recommended
Deadlines for application

| | Fall | Spring | Summer |
| --- | --- | --- | --- |
| US Citizen or resident (on-campus) | April 1 | October 1 | April 1 |
| US Citizen or resident (distance) | July 1 | November 15 | No Entry |
| International (on-campus) | April 1 | September 1 | February 15 |
| International (distance) | June 15 | October 15 | No Entry |