The mission of the Purdue Polytechnic Office of Engagement is to build relationships— with industry, the community, government, and beyond— for the purposes of furthering educational and research missions, and transforming traditional schooling into a new model for delivering higher education in the 21st century. We oversee a number of programs such as:
Extensive K-­‐12 programs
Workforce education
Undergraduate/graduate research opportunities
International capstone and internships
Industrial internships & Co-­Ops
We don't want our graduates to spend the first year or two of their careers preparing for their job. We want them to be ready on day one as productive members of their team, company, and community. The Office of Engagement is helping to create and give our graduates, advantages that will help them throughout their lives.
Creating a more involved generation and investing our future… We are the Boilermakers!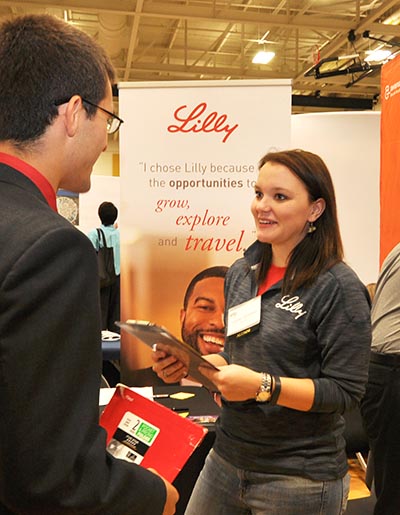 Students networking at the AITP Career Fair