Keeping the lights on at a major land-grant research university, says Amy Noah, is just as much about building and fostering connections as fundraising.
As vice president for development, Noah serves as Purdue's chief connection-maker, focusing on building relationships between the University and alumni, friends, corporations and foundations. She believes that nurturing healthy, long-lasting relationships is the best way to find the support that Purdue needs to advance its mission.
Noah (BS organizational leadership and supervision '94) was named to her position in November 2013 by Purdue President Mitch Daniels after she served as interim vice president for six months.
"Amy's performance in the interim role validated her readiness for this job," said Daniels. "She is highly regarded and well-respected among our many University stakeholders. Her commitment and dedication to this University made her the ideal choice."
Noah inherited a huge task in the form of a $2.019 billion goal, set in 2012, for Ever True: The Campaign for Purdue University. Noah and the University Development Office team reached that goal in 2018 — but donors were even more ambitious, giving a total of $2.529 billion before the campaign's 2019 completion.
We spoke with Noah about the challenges and rewards of her job, how alumni can support Purdue even without opening their checkbooks, and why her organizational leadership degree has been important in her career.
Question: The role of the University Development Office is to help with fundraising efforts for the University. But our guess is that your role is a lot more nuanced than "please give us money." What is your approach? How do you inspire donors to support a large institution like Purdue?
Amy Noah: It's actually about connecting alumni to the institution. Very few discussions that I start ever are about money. It's trying to understand what made their experience at Purdue unique. What do they remember fondly – a class? a professor? Many people meet their spouse at Purdue.
When I meet with alumni, I typically ask: Do you come to visit? How often do you come back? It's important for people to want to be on campus, to know what's happening and have a presence. We often talk with people who aren't close to Purdue, whether emotionally or geographically. So our role is to give them an update. Sometimes they've heard things and want to know more. "How is Purdue continuing to do this tuition freeze? What's new in the Polytechnic?" They want to know what Purdue is focusing on. They ask about what looks different and what has been built since the last time they visited.
People have incredible pride in Purdue, and they're proud of being graduates. They talk about how difficult it was and their sense of accomplishment in having earned Purdue degrees.
Question: How do alumni and other friends of the University decide to support Purdue financially?
Noah: People feel compelled to give back, to support things that are important to them. They might want to celebrate a faculty member. Or they might remember that certain labs aren't as good as they wanted them to be, so they want to provide support for upgrades.
When I go to visit alumni, I want to give them a glimpse of what it's like to be here every day. In those conversations, it's usually very natural for them to talk about wanting to make an investment in the University. "I owe all my success to Purdue" is something I hear frequently, and it makes me smile every single time! Giving to Purdue, regardless of the amount of the gift, really does help the students and faculty who are here today with their daily learning and research.
"'I owe all my success to Purdue' is something I hear frequently, and it makes me smile every time."Question: You've been working in a development role for more than 18 years. We're guessing you have some fun stories to share.
Noah: I often find myself having conversations about interesting ways that people want to provide support. It's not surprising that Purdue alumni are very creative.
I once talked with a former professor who also served as an administrator. He chose to donate a very rare stamp collection. From a process standpoint, we are not able to accept gifts like that — but he arranged to sell the collection, and the proceeds were his gift to Purdue.
When I worked in Armstrong Hall, a gentleman called and asked me to come downstairs. He was parked out front by the statue of Neil Armstrong. He had driven from Illinois with horses in a trailer, and he wanted to give them to Purdue!
Question: How can your role be challenging?
Noah: Sometimes we find ourselves doing work that is difficult but rewarding. I've had to work with parents who lost a child as a student or as a young alumnus, and they wanted to find a way to honor them. Of course, it's heartbreaking, and we'd rather no one be in that situation. But it's wonderful when families are moved to provide support because their kids loved Purdue.
One family created a scholarship to honor a student who committed suicide. I had a six- or seven-year relationship with them. Grief is a process, and they were in different places at different times. It eventually became painful for them to hear how the scholarship's recipients were doing. But it was important to them – and it was also important that we get it right.
In 2003, I reached out to a gentleman who lived in Cleveland to have coffee. He met to tell me that he would never make a gift because he was angry about a parking ticket! He was very emotional about it. There wasn't much I could do except listen and talk with him. We stayed in touch for a while.
Eight years later, he contacted me and said he wanted to come to campus because he had experienced a personal loss that got him evaluating his life, and he realized he had carried his anger too far. A year later, he ended up making a $2 million gift. Ultimately, he recognized Purdue had positioned him for success and he felt compelled to give back. He wanted to give to a parking ticket fund! We could not channel his gift in that specific manner, but some of his money did go into an emergency fund for students.
Question: What is a day on the job like, typical or otherwise?
Noah: Because I'm trying to provide oversight to the entire organization, today I don't have as many opportunities to travel or to visit face-to-face with alumni as I did before accepting this assignment. However, I still hear from people that I first met in the early 2000s.
There isn't a typical day. We spend a lot of time coordinating efforts in our office. My role is to make sure we are always representing Purdue in the absolute best way possible. Some alumni tell us they hear from us too much; we try to align with what they want. We spend a lot of time managing that.
At the close of a campaign, I imagine how we can focus our efforts over the next 18 months, expressing adequate and full gratitude for those who supported the campaign and who support Purdue on an ongoing basis.
I spend a fair amount of time identifying talented people who want to work in this field and helping them develop. How do we best enable their success? I want to help people stay in one place for a good amount of time and to build and maintain relationships.
We spend a lot of time supporting the president and his interactions with alumni and friends of the University. We want to provide good support for those efforts.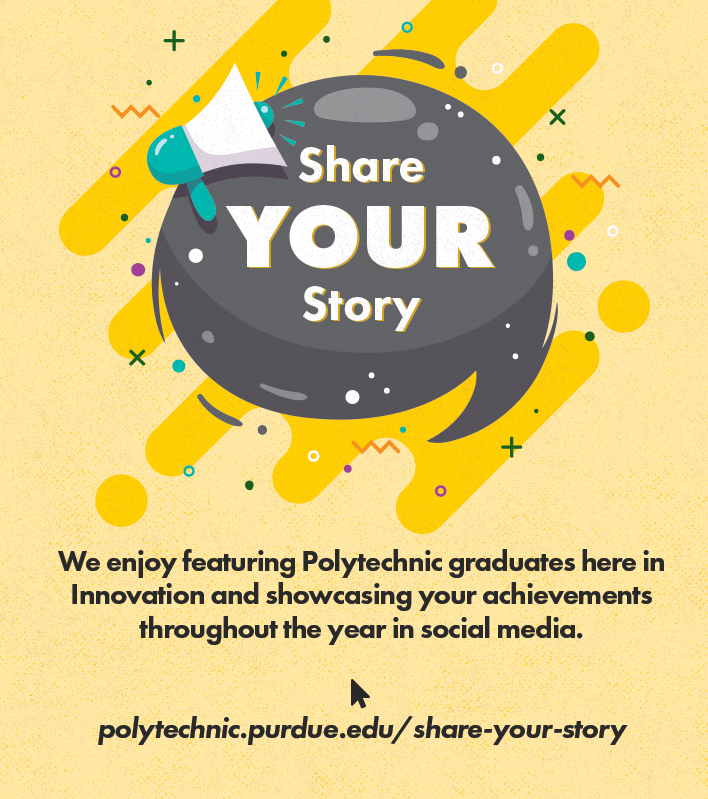 Question: You've been working with President Daniels since he started the Purdue Moves initiatives, one of which was the transformation of our college into the Polytechnic. What role did you play in shaping and executing those initiatives?
Noah: That was very much a Mitch move. It was a brilliant opportunity for the University to step forward. The ideas that came from that were incredible. The thought, creativity and uniqueness were fantastic. Fortunately our office was able to compliment those efforts, and the community responded very positively. Everyone was encouraged to hear about the vision and about the ambitious plans for the colleges and programs.
Some of the initial Purdue Moves initiatives are ongoing, including efforts to grow the Polytechnic. It has been helpful to work with colleges and departments as they create frameworks for the future, and it's rewarding to see the fruits of our work. The Engineering and Polytechnic Gateway Complex that will be built during the next two years is a great example.
Question: Let's say you're talking to current college seniors. How would you describe what's next for them, as they prepare to go out into the world as Purdue alumni? How can new graduates help Purdue?
Noah: I think about the differences between when I graduated and now. We do a better job today talking with graduates about the need to stay connected. President Daniels talks about it frequently in commencement remarks. You're always representing the University, he says. You can showcase Purdue in all that you do, personally and professionally.
I encourage new graduates to prioritize staying in touch and visiting. You're going to find yourself in good on-the-job relationships, so you can encourage colleagues to look at our alumni. It's a great way to be an advocate for Purdue.
Younger people often say, "I'm not yet in a position to give, and I don't know what to do." I tell them that they are always able to help Purdue just by building a network of fellow alumni around them. By helping their companies get an impression of the quality of our graduates, it provides valuable support to Purdue. And we are grateful for all the support we receive, in every form it comes.
Question: You earned a bachelor's degree in organizational leadership back in 1994 — a major that's still offered in Purdue Polytechnic today. How does your degree still influence the way that you do your job?
Noah: I worked with a diverse group of people in my degree. There was a heavy emphasis on developing strong communication skills, both verbal and written. The college, now known as Purdue Polytechnic, opened my eyes to things I didn't previously know or understand. I liked the program and the structure it offered. Organizational leadership opened a lot of doors for me.
When you're doing something, it's sometimes hard to measure its impact. I have come to realize that the work our team does is special. We meet really incredible people. Helping coordinate opportunities to name a facility or endow a scholarship is very rewarding. Those will always exist, and we get to be a part of it!
We feel like we really make a difference. I continue to be amazed by the kindness, the generosity and the authentic nature of the people with whom we interact. They – and we – love Purdue deeply.

Additional information: