Purdue Aviation Day, the flagship public event for the School of Aviation and Transportation Technology in Purdue University's Polytechnic Institute, will return on Saturday, April 15. The event is organized exclusively by student leaders, and it provides the Greater Lafayette community with a free opportunity to explore the past, present and future of aviation alongside the students and professionals from Purdue working to shape it.
"Purdue Aviation Day is a celebration of the incredible achievements of the aviation industry and a reminder of the exciting possibilities that lie ahead," said Nicolas Shelton, president of Purdue's Aviation Ambassadors, certified flight instructor and current student of the professional flight program. After a two-year-long, pandemic-related hiatus, Aviation Day came back in full force in 2022 with over 7,000 people attending. Shelton and other organizers hope to continue surpassing prior benchmarks.
Longstanding sponsor Envoy Air is returning in 2023 and will display the Embraer 175, a short-to-midrange passenger jet. The Hawker 900XP, a private jet which Purdue Aviation students have experienced mostly through a high-level simulation module acquired in 2019, will also be displayed in full. The day's agenda showcases a variety of other crafts, ranging from the commercial airline industry, general aviation and military aircraft: included are the DC-3, T6 Texan, CRJ 900, the Piper Seminole and Archer TX, Cessna 172, CRJ 550, Learjet 70/75, Bell 407, A-10, BT-13, PT-26, and the Gulfstream G280 and G4.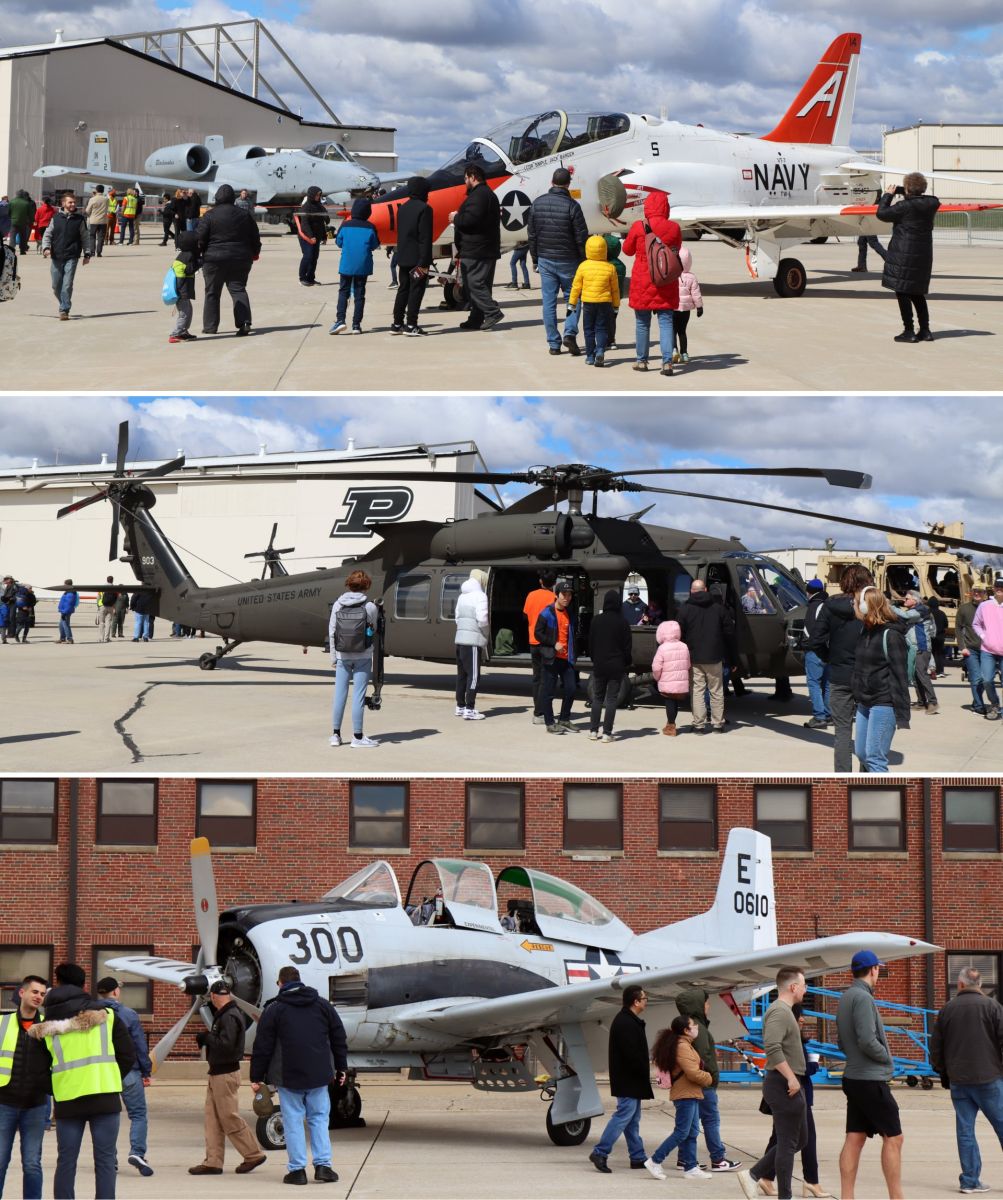 Featured guest speakers include two Purdue alumni. Speaking first will be Jonathon Parry (BS mathematics '11), an experienced Navy test pilot and Advanced Development Project Officer who has most recently worked at the Naval Air Station at Maryland's Patuxent River. His work is concentrated on new technologies related to electronic warfare and next-generation digital jamming devices.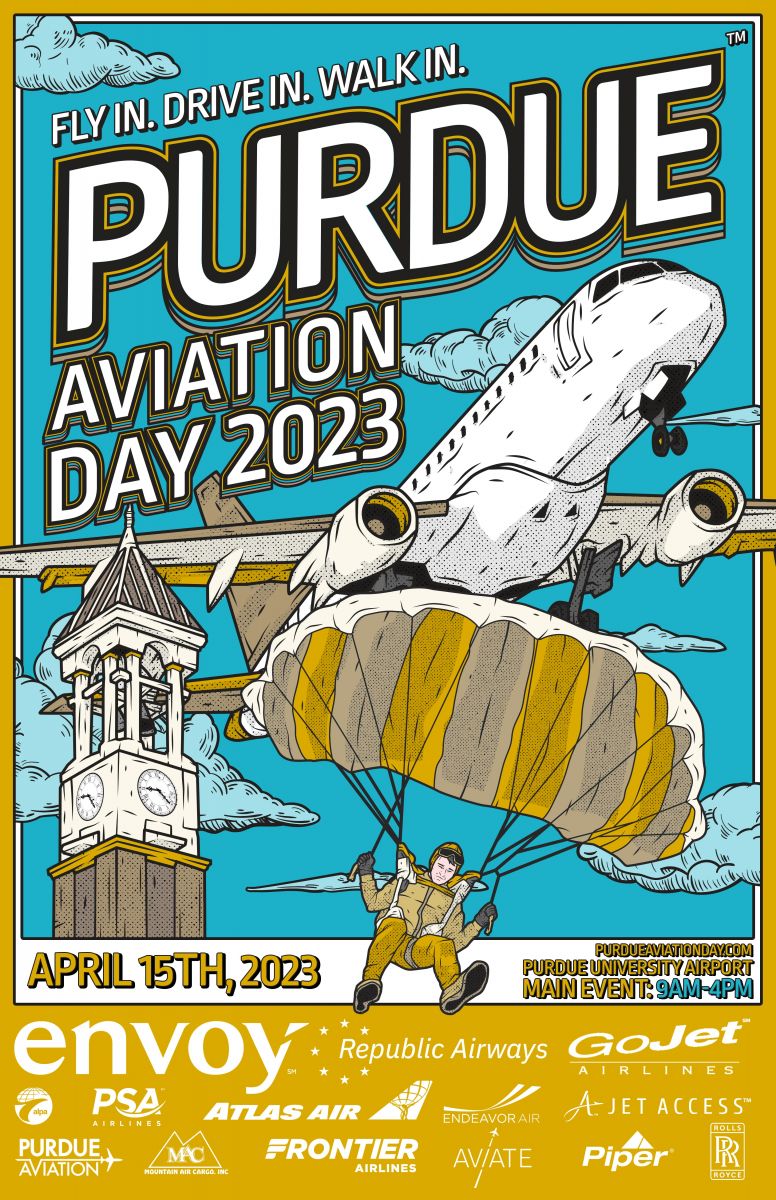 Attendees will then hear from United Airlines Captain Laura Savino (BS aviation technology '87), with decades of experience both as a commercial pilot and an advocate for women in STEM. She participates in organizations such as Women in Aviation International and the International Society of Women Airline Pilots, and has also shared her story in her memoir, "Jet Boss: A Female Pilot on Taking Risks and Flying High."
Fun activities for all ages include bingo games at both 9:30 and 11:30 a.m. and "Pin the Propeller" at 10:30 a.m. Much more programming throughout the day will keep the activities varied, with Purdue Pete making an appearance, a Falconer presentation and even a demonstration from the U.S. Army's Golden Knights, a world-renowned team of skilled parachuters.
The original Purdue Aviation Day occurred in 1911 around the site that Boilermakers now recognize as Elliott Hall of Music. In 2016, the School of Aviation and Transportation Technology revitalized the event, and ever since it has been entirely student-run. Shelton says that, in its modern form, "Aviation Day inspires future generations of pilots, engineers, and aviation enthusiasts to believe that anything is possible with dedication and discipline."
Purdue Aviation Day 2023 will be held April 15, 2023, from at 9 a.m. to 4 p.m. at the Purdue University Airport, 1501 Aviation Dr., West Lafayette. Activities will take place in the Niswonger Aviation Technology Building, the Research in Aeromechanics and Propulsion Building, the hangars and throughout the airport grounds.
The event is free and open to the public; no tickets or registration are required.
General aviation pilots will be welcome to fly their aircraft to the event and attend a "fly-in breakfast" from 8 a.m. to 12 p.m. Pilots flying in are asked to register online in advance.
Additional information