Purdue students are researching ways to use additive manufacturing (aka 3D printing) for airplane and engine maintenance.
Aeronautical engineering technology students have used 3D printers in two courses to test how accurately the prototypes can be made. In one instance, they successfully created an airframe door hinge; in another, they created an engine bearing. Both projects will be used to evaluate time efficiency and costs compared to traditional fabrication processes.
Projects: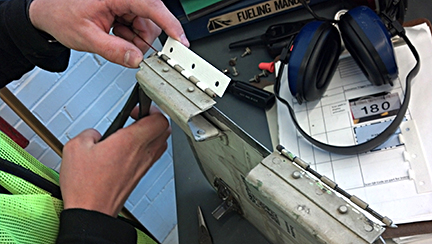 AT402 – Aircraft Airworthiness Assurance, taught by Timothy Ropp, clinical associate professor. This capstone course provides a lab setting where students operate and perform repairs on aircraft systems. Students created CAD models of a broken access door hinge from the department's Boeing 727. They then modeled the repair part, printed it on a 3D printer and installed it.
"Although it is not an industry-grade metal print, the prototype hinge was installed on the airframe to demonstrate proof of concept and functional capability." Ropp said. "These projects really highlight the next generation design and technical competencies of our AET students and the benefits of immersive teaching and research practices when you integrate state-of-the-art-technology into the labs. They're already thinking of more innovative ways to use 3D printing in the future. We're generating thought leaders and doers for our industry, especially in emerging advanced manufacturing practices for aerospace. That's exciting."
AT476 – Advance Gas Turbine Engine Technology, taught by John Davis, clinical assistant professor. Students created a CAD model of an F-109 turbofan jet engine bearing component and then manufactured a prototype with the 3D printer. The part will be evaluated to explore new inspection processes and to visualize component re-design. Davis plans for future 3D print projects to include additional jet engine air intake adapters that could be installed and tested on laboratory engine runs.
"Projects like these are what industry is doing more and more. But they also allow us to extend and explore the art in new ways, through research and development, something Purdue is excellent at doing," Davis said.