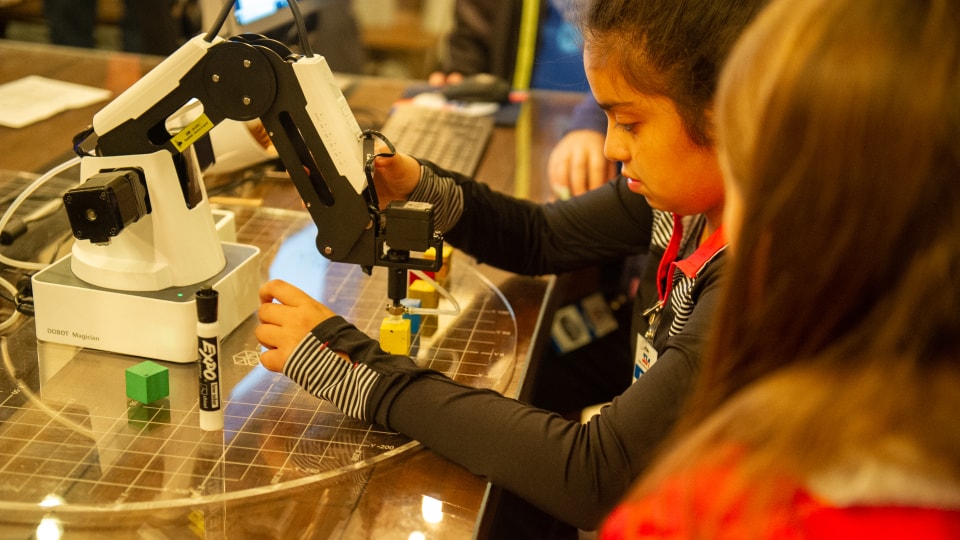 Purdue University's Indiana Next Generation Manufacturing Competitiveness Center (IN-MaC), located in West Lafayette, Ind., develops programs and services designed to enhance the talents and capabilities of Indiana's present and future manufacturing workforce. Partnered with more than 6,000 manufacturers across the state, one of IN-MaC's key focus areas is the need to address an estimated 2.4 million unfilled manufacturing jobs in the next 10 years.
In support of the center's commitment to improving Indiana's pipeline of qualified and prepared workers, there is ongoing longitudinal research into what it takes to create and nurture interest in a manufacturing career among tomorrow's workforce: students in kindergarten through fifth grade.
Sascha Harrell, director of workforce development and education for IN-MaC, has a personal appreciation for the importance of a talented manufacturing workforce; she has worked in industry for over the past ten years, her parents both worked in manufacturing, and now all of her siblings do the same. That interest coupled with a master's degree in curriculum and instruction, plus an appreciation for technology, drove Harrell to collaborate with Greg Strimel, assistant professor of engineering-technology teacher education in the Purdue Polytechnic Institute, on the creation of a long-term research project intended to study how industry and education can work together to change children's perceptions about careers in manufacturing, and how giving students consistent access to Industry 4.0 technologies can impact their career choices.
"It's all about awareness and access," said Harrell. "Our goal is to educate both industry and education so that K-5 students have access to and knowledge about these career options.
"If you ask students about careers in manufacturing, they will talk about engineers and production workers, but there is so much more to a manufacturing facility – environmental health and safety, medical personnel, security, accounting, legal, human resources. And then there are the supply chain and logistics companies that support the manufacturing facility."
Design and Innovation Studios™

The lynchpin of IN-MaC's K-5 manufacturing workforce research is their Design and Innovation Studios™. These studios, funded by grants from both industry and education, provide a dedicated space in elementary schools and in manufacturing facilities where K-5 students and their teachers can learn about technologies like robotics and artificial intelligence while they develop a greater understanding of how those technologies can lead to an exciting career in manufacturing. In-school studios match the studios in industry in terms of technology and equipment, which helps students to connect the dots between their school activities and the real world of manufacturing.
IN-MaC's research tracks pre- and post-interaction perceptions about manufacturing by surveying the K-5 students who participate in Design and Innovation Studios. With such a young study group, the research captures responses to a set of perception questions — "Who works in a manufacturing environment? What do they wear? What objects do they have?" — and asks children to complete a draw-a-manufacturer test. Pre-experience responses show that children imagine manufacturing facilities as an unoccupied, blocky building with limited people, basic hand tools, and the occasional big, scary robot that looks like something out of a science fiction movie. More than half of these students say that they are not interested in a manufacturing-related career; more than 65% viewed these jobs as "unsafe," and more than 75% viewed these jobs as "dirty."
After working in an in-school Design and Innovation Studio and/or visiting a real manufacturing facility, those same student perceptions shift, indicating that children's career perceptions can be influenced dramatically via industry outreach initiatives like the Design and Innovation Studio. In post-survey feedback, K-5 students routinely demonstrate an awareness of the human element of manufacturing, agree that creativity and innovation is encouraged, understand that manufacturing jobs pay well, and express an increased emphasis on safety and cleanliness — along with more accurate depictions of industrial robots.
Integrating experiences into the classroom

One notable challenge to the success of the Design and Innovation Studios model: the technical knowledge of K-5 teachers tasked with integrating the studios into their existing curriculum in a meaningful way. According to Harrell, making sure that teachers have the right tools, and get the training they need in order to use those tools, is a critical component.
To help teachers understand how to leverage studio technologies in a meaningful way, the IN-MaC team worked with pre-service teachers from the Polytechnic Institute's engineering-teacher technology education program to provide in-person, onsite training for K-5 teachers. This teacher-to-teacher training focused on understanding how coding and other technology skills can be integrated into the classroom.
"Just like with their students, it's a matter of awareness and access," said Harrell.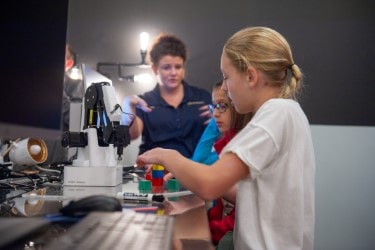 Today, almost three years into the research project, IN-MaC has:
Directly impacted more than 20,000 Indiana students.
Reached more than 66,000 students by providing professional development and technology training for teachers.
Placed more than a dozen Design and Innovation Studios in Indiana schools.
Placed two Design and Innovation Studios in Indiana manufacturing facilities, including Subaru of Indiana Automotive in Lafayette, Ind., and Honda Manufacturing of Indiana, LLC.
Looking ahead, IN-MaC intends to pursue grant funding to implement more Design and Innovation Studios, and manufacturers continue to sign on to participate in the project. Research will continue to examine how the studios impact student perceptions about manufacturing careers and how they view industry.
Manufacturers interested in participating in the Design and Innovation Studio project can contact Harrell directly at smharrel@purdue.edu.
Additional information