A new 3-D version of Fort Ouiatenon created by students in the Department of Computer Graphics Technology provides the most accurate representation ever created of what the historical site may have looked like, according to Colby Bartlett, vice president of the Tippecanoe County Historical Association's board of governors.
Alex Couturier, Jordan Edge, James Chen and Dakota Hallinin, students in CGT 41100 (Contemporary Problems in Applied Computer Graphics), created the interactive computer rendering of the fort for their senior capstone project by pairing gaming technology with data from historical descriptions of the site, assorted artifacts on hand, and archaeological work done previously at the West Lafayette site and at similar outposts in Michigan.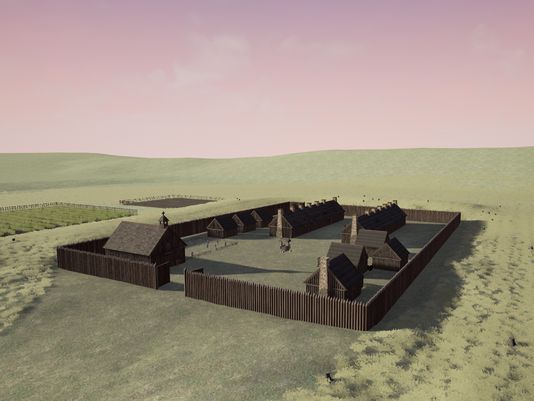 The rendering shows that Fort Ouiatenon is thought to have been about 100 by 150 feet and to have featured row houses, storehouses, and other structures within its bounds. Established in 1717 by the French across the Wabash River from several settlements of the Native Americans' Wea tribe, the fort is believed to have been located about one mile west of the present-day Fort Ouiatenon Blockhouse Museum located on South River Road in West Lafayette.
Nathan Hartman, Dauch Family Professor for Advanced Manufacturing and associate head of the Department of Computer Graphics Technology (CGT), said that this senior capstone project could be the first of several collaborations with the Tippecanoe County Historical Association (TCHA).
"We thought it would be interesting to get our computer graphics students collaborating with faculty and students in anthropology and archeology, with the intent of making this an ongoing project for the senior capstone course in CGT," Hartman said. "The research at the original Fort Ouiatenon site is ongoing, so the new rendering was designed to be expanded upon by future student teams."
The initial collaboration was facilitated by Purdue Polytechnic's Office of Engagement.
"The Fort Ouiatenon project is a great example of how our students can apply the discipline-specific skills they've learned to create real-world solutions," said Geanie Umberger, associate dean for engagement in the Purdue Polytechnic Institute. "We are continually looking for capstone projects with industry partners or the community that can make similar impact."
Hartman and other faculty are working with the TCHA on a timeline for possible projects to update and extend the Fort Ouiatenon rendering and to create digital assets for other historical sites in the county.
The CGT student team's new renderings are being readied for display at TCHA sites and at the Feast of the Hunters' Moon, the TCHA's annual festival scheduled for Sept. 30 and Oct. 1 at Fort Ouiatenon Park.
Additional information:
Purdue builds new view of Fort Ouiatenon (Journal and Courier)
To propose a project through which Purdue Polytechnic students would seek innovative solutions to meet a need or solve a problem your organization is facing, please contact Mike Reckowsky, director of industry engagement (mreckowsky@purdue.edu or 765-496-0527).