Kevin Dittman, associate professor of computer and information technology, has worked for Purdue University for 20 years after a successful career working for multiple Fortune 500 companies. He is one of the co-founders of the highly rated online Master of Science in Information Technology Project Management (ITPM) program and is founder of the new online Master of Science in Information Technology Business Analysis (ITBA) program.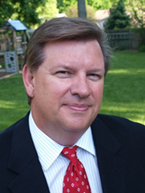 Dittman teaches Requirement Management Processes and Information Technology Quality Management courses in the ITPM program and Business Analysis Essentials and Project Quality Management courses in the ITBA program. In addition he has co-authored textbooks on systems analysis and design, and ITPM.
He draws on his years of experience in the IT industry to guide students in not only successfully completing the courses, but also making it a worthwhile experience that can immediately contribute to their success in their job.
"When I receive a note or comment from a student that says. 'I am going to tell my boss about this' or 'I am going to try this the first chance I get,' I know I have provided value back to the student and that really puts a smile on my face," he says.
Dittman's passion for better practices in requirements management and engineering led him to propose the new ITBA program. "As an industry we do an atrocious job when it comes to defining and managing requirements!" he said.
The Project Management Institute confirms Dittman's statement with several findings:
Poor requirements management is a major cause of project failure, second only to changing organization priorities.
Organizations waste $51 million for every $1 billion spent on projects and programs due to poor requirements management.
Only 49 percent of organizations have the resources in place to do requirements management properly.
53 percent of organizations fail to use a formal process to validate requirements in an unbiased way.
To overcome these issues, organizations are seeking highly skilled business analysts to play a major role in projects and supplement the project manager role. The demand for qualified business analysts is expected to grow at an unprecedented rate and the average salary for a business analyst is $82,493. The number of business analysis jobs is predicted to increase 19 percent by 2022, according to the U.S. Bureau of Labor Statistics.
"Purdue University is one of the first to offer a master's degree focusing on business analysis in the United States. Our degree will prepare students to sit for the certification exam by either PMI or the International Institute for Business Analysis (IIBA), and assist them in advancing their career to a highly coveted enterprise or strategic BA position."