The Department of Aviation Technology celebrated Delta Day Oct. 7 as they officially accepted the donation of a CRJ-100ER.
As part of its partnership with Purdue, Delta Air Lines donated a Canadair Regional Jet, a CRJ-100ER, to the Advanced Aviation Analytics Institute for Research – Center of Research Excellence (A3IR-CORE).
With the new aircraft, additional teaching and research can take place in three areas:
advanced industry maintenance procedures
ground handling procedures (passenger customer service, boarding and deboarding, baggage handling)
aircraft ground operations (servicing, towing, taxiing)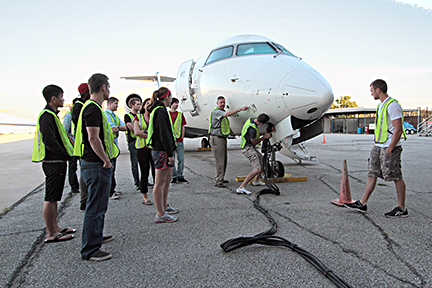 "The CRJ-100 allows us to provide research opportunities for faculty and active learning opportunities for students. The students in each of our three programs will be the big winners," said John Mott, director of A3IR-CORE and associate head of the Department of Aviation Technology. "Professional flight students will be able to use the aircraft as an advanced systems learning laboratory. Aeronautical engineering technology students will gain knowledge in FAA maintenance practices for transport aircraft. And our aviation management students will benefit from coordinating operations involving the aircraft and from participating in ground handling research projects."
Two executives from Delta spoke at the brief ceremony, as did John Wensveen, head of the Department of Aviation Technology, and Gary Bertoline, dean of the College of Technology.
"I assure you the students will use this day in and day out for years to come," Bertoline said. "This donation is helping us stay on top. We believe in industry collaboration; we have to be integrated with industry. This jet allows us to center our efforts on student-led and student-centered learning."
Delta is a key sponsor of A3IR-CORE and a prime example of the industry-Purdue Opportunity Pipeline, what aviation administrators are calling iPOP. Initially part of A3IR-CORE, iPOP has been expanded by faculty in the Department of Aviation Technology to include multiple partnership and education opportunities. The pipeline will provide a smooth progression for Aviation Technology students to participate in industry projects as undergraduates, develop and demonstrate leadership and project management skills as graduate students, and obtain internship and placement opportunities.
"Why do we participate with Purdue?" asked Don Mitacek, senior vice president of maintenance operations at Delta. "Delta Air Lines is built on a culture of fundamental values: honesty, integrity and trust. ... You mirror these same values. When we hire people with these values, they'll be great employees for many years to help us succeed."
Mott said the CRJ is a major step forward in the expansion of Purdue's partnership with Delta.
"It will allow us to continue providing relevant, hands-on learning opportunities for our students for years to come," he said.
Two students worked with Delta last spring on a human factors project through A3IR-CORE.
"They saw a need we had for updated equipment. The CRJ has an all-new glass cockpit, which everyone in the industry uses. The jet will give us hands-on experience," said Bridget Stanley, one of the student researchers who will continue her work with Delta on another project this semester.
About A3IR-CORE
A3IR-CORE is one of two university-level research centers in the Department of Aviation Technology. The center is focused on the dual mission of solving industry problems and providing educational experiences for students by actively involving both graduate and undergraduate student researchers working closely with faculty mentors in a highly collaborative multidisciplinary environment. The center is sponsored by industry partners, and a portion of the research is performed in conjunction with those partners.
Additional resources