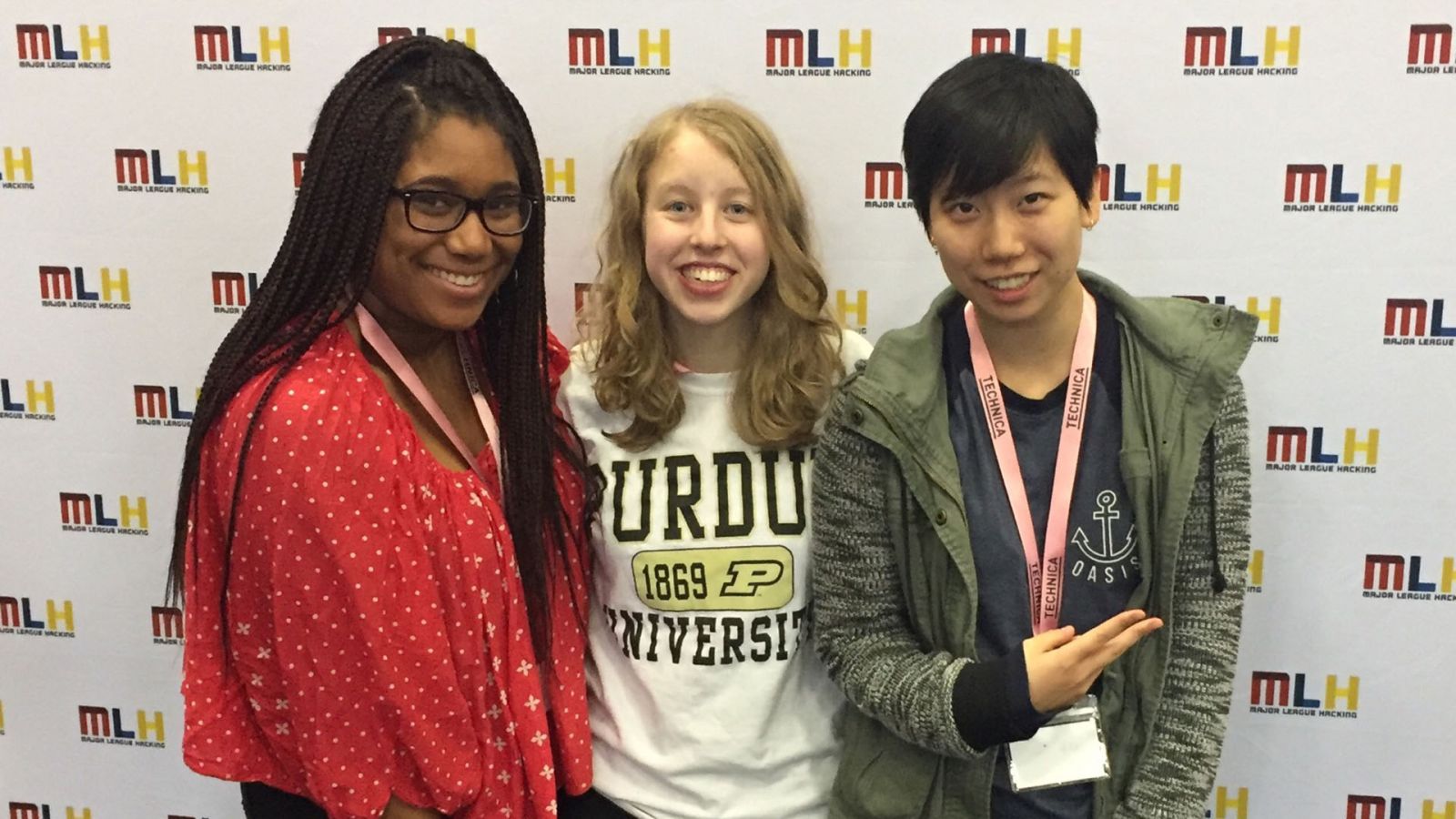 Lindsay Harper, Taylor Younkins and Grace Chen, first-year students in the Department of Computer and Information Technology, won two awards, including first place, from the Technica Hackathon, held November 4-5, 2017.
Technica is the University of Maryland's all-women hackathon. Over the course of 24 hours, women are immersed in tech culture and encouraged to exercise their imaginations to create interesting and innovative hacks. More than 70 groups participated in the event, including teams from the University of Virginia, Boston University, Virginia Tech, Indiana University and the University of Maryland.
The students won first place in the category Best Digital Industrial Hack, presented by General Electric, and took the runner-up award in the Best Virtual Reality Hack category presented by Oculus, which specializes in virtual reality headsets and related software, and Facebook.
"We created an emergency rescue simulation that uses virtual reality to mimic real-world, extreme situations, such as a wildfire or avalanche that rescue workers can use as training," explained Harper. "We focused on safety and how our hack can make sure rescue workers have the same grueling experiences but in a much safer environment."
"We also took the expense of training into consideration," said Chen. "This (virtual reality) training would be more cost-effective than creating controlled, physical training areas for rescue workers. With this benefit, the budget could be redirected to providing the rescue teams with advance equipment that would increase their safety or provide other necessary training such as CPR or SAR (Search and Rescue) Tech."
Younkins described the team's methodology. "We created our simulation using a virtual reality software program called Unity. And even though none of us had any experience using Unity or Oculus Rift (the virtual reality headset), and only limited experience with Steam (the connecting software between Unity and Oculus), we still accomplished the challenge using YouTube videos and experimentation within 24 hours."
Harper and Younkins are majoring in computer and information technology; Chen is in cybersecurity.
Learn more about the Technica Hackathon.