"A big part of trying to teach STEM subjects is getting students interested," said Mark French, professor of mechanical engineering technology. "But it's rarely difficult to interest people in making guitars."
With grants from the National Science Foundation's Advanced Technological Education project, French, along with Tom Singer, professor of mechanical engineering technology at Sinclair College in Dayton, Ohio, Mike Aikens, professor of engineering technology at Butler County Community College in Butler, Pennsylvania, and two dozen other college professors and high school teachers, integrated the building of guitars with lessons in science, technology, engineering, and math (STEM).
"When you try to build a guitar from scratch, people normally discover it can be a hundred hours of very hard work," said French. "But if you get them into a structured environment with a kit, they are almost always successful. So we set up workshops several years ago. Teachers come for a week, alternating classwork with building time."
The workshops evolved into the National STEM Guitar Project, a series of five-day workshops at locations around the country for middle and high school teachers and postsecondary faculty members. In addition to the workshops, the project provides educators with an additional 80 hours of instructional activities.
Familiarizing teachers with building guitars is only part of the process. "The other half is learning how technical aspects of the guitar can map directly to learning objectives in STEM," said French.
Building a guitar provides opportunities to learn about geometry, Computer Aided Design (CAD), Computer Aided Manufacturing (CAM), electronics, material properties of wood, tolerances in engineering drawings, string tension characteristics, a variety of mathematical concepts used with engineering and music, and numerous other applications of STEM.
"We created modular learning activities to highlight specific concepts and give teachers a framework to implement this in their schools. The guitar is just leverage to get students interested in learning STEM subjects," said French.
At Sinclair College, Singer runs a kit-building operation as part of the Sinclair Guitar Lab. Building the kits evolved from summer workshops French taught at Purdue. Singer now produces about 1,600 kits per year.
"By that measure, it's a mid-tier operation," French said, which was large enough to attract corporate partners including Stewart-McDonald, Frank Miller Lumber, Forest Scientific Corporation, C.F. Martin & Co., Fender, and others. The industry partners provide technical support and volume discounts on parts.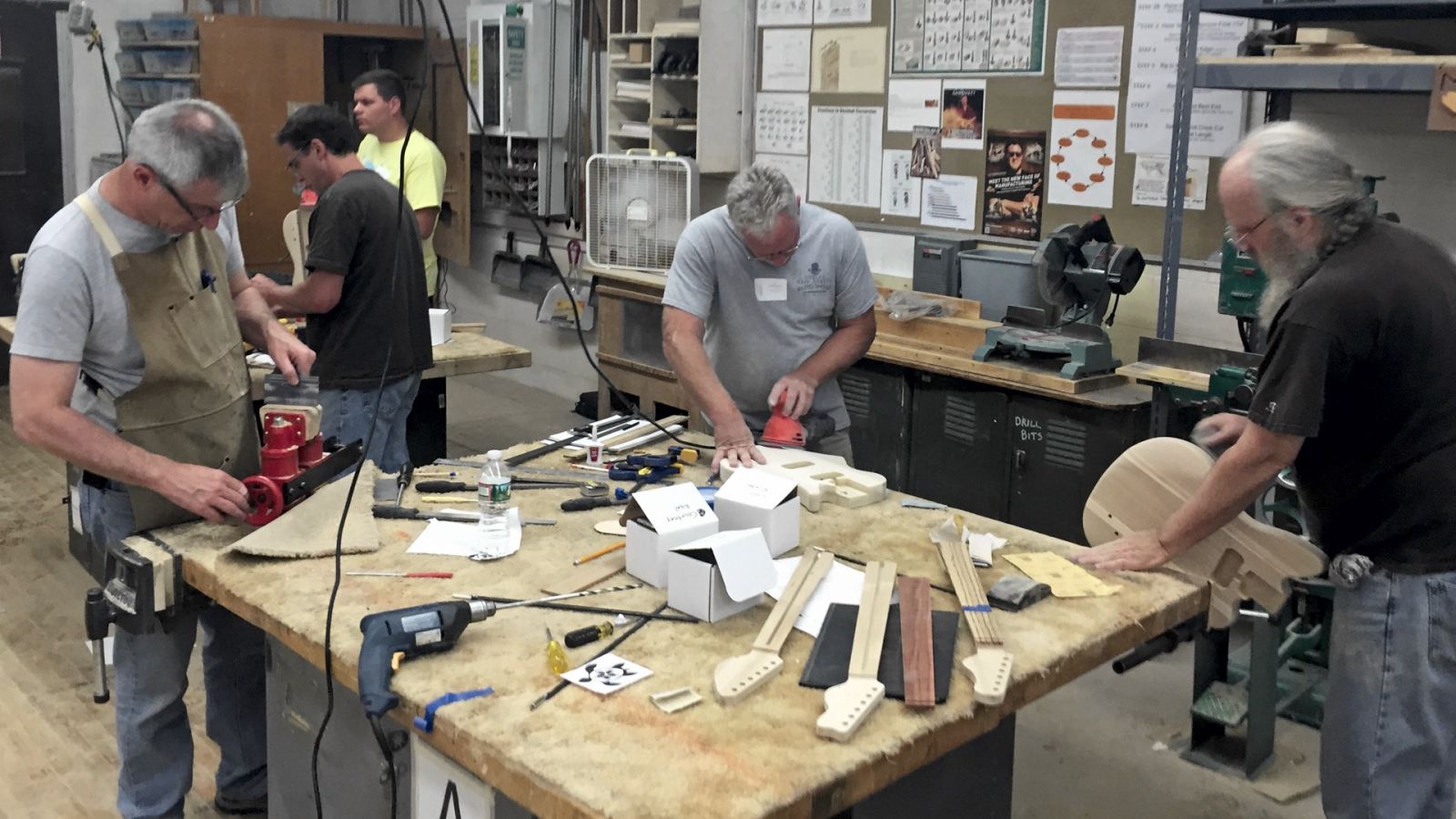 Since the project's creation eight years ago, over 450 STEM educators have participated in workshops and hundreds more have been exposed to the concept at national education conferences. Educators who have adopted or adapted the project's curriculum have impacted approximately 20,000 students nationwide.
Although workshops have previously focused on building solid body electric guitars, French is currently working with Doug Hunt, an industrial technology teacher at Southern Wells Junior-Senior High School in Poneto, Indiana, to include acoustic guitars in 2018-19 workshops.
French has hosted numerous workshops in West Lafayette and participated in the National STEM Guitar Project's workshops several times. For Purdue students, he also regularly teaches MET 34900 (Stringed Instrument Design and Manufacture). In the course, teams of five to seven students design and build one solid body electric guitar per team member.
"MET 349 is really a manufacturing class. Students think of it as the guitar-building course, and that's fine," said French. "It's win-win. I want them to learn manufacturing and they want guitars. We both get what we want."
Additional information: