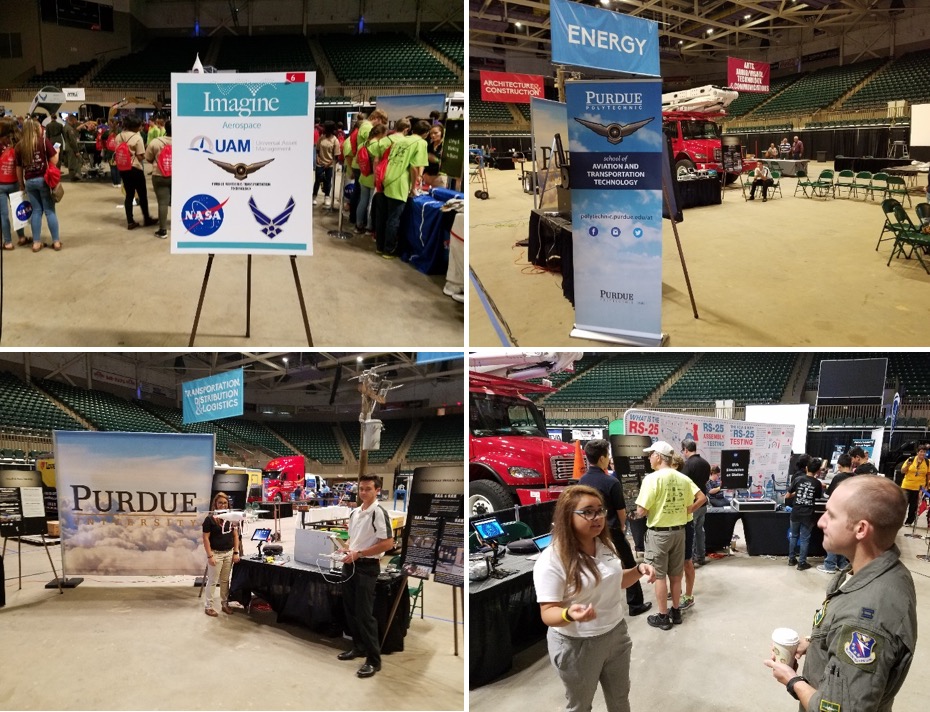 The Aerospace & MRO Technology Innovation Center's Hangar of the Future was invited to participate in the STEM Technology Career Expo from October 3–6, 2017, at the BancorpSouth Arena in Tupelo, Mississippi. They joined Airbus, Caterpillar, Toyota, and 15 other technology career pathway companies for the event.
The student team from the School of Aviation and Transportation Technology (SATT) showcased award-winning technology projects in Aerospace Advanced Manufacturing and Air Vehicle MRO. Laura Garcia, a professional flight student, Justin Ordonez, an aeronautical engineering technology student, and Tim Ropp, associate professor of aviation technology and director of Purdue's Aerospace and Maintenance, Repair and Overhaul Technology Innovation (AMT-I) Center, exhibited in the aerospace section alongside NASA and the U.S. Air Force.
The students engaged over 5,000 eighth graders, community visitors and other agencies, explaining concepts and giving demonstrations of cutting-edge technologies being used, including 3-D printing of aircraft test parts, augmented reality / virtual / mixed reality for maintenance tasks on a wing mockup, and for checklist instructions. They also used Hangar of the Future's Microsoft Hololens to show SATT's large jet (CRJ-100) in the middle of the arena, allowing expo visitors to take a walk-around virtual tour.
They demonstrated the Hangar of the Future lab's use of drones as flying inspection platforms on hangar air vehicles. The hit of the Expo was Purdue's "Drone-Selfies" that students took with participants, including our Expo friends from NASA (below).
The event provides a better understanding of opportunities available after graduation, including aviation and aerospace industries served by SATT in areas like energy, engineering, information technology, advanced manufacturing, aviation MRO, distribution and logistics.