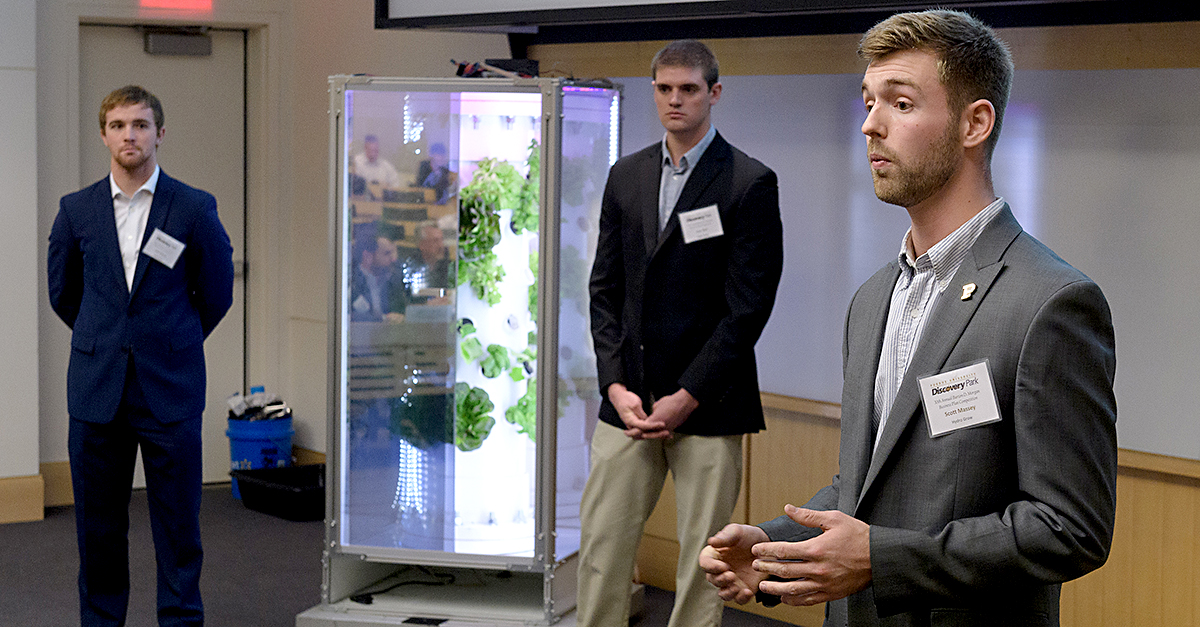 Hydro Grow LLC, a three-person team that includes two Purdue Polytechnic students, won the undergraduate division of the 30th Burton D. Morgan Business Plan Competition at Purdue University.
They won the $20,000 top prize for their pod-based vegetable growing system. Similar to the popular Keurig coffeemaker, Hydro Grow uses seed cups placed into a stand-alone tower so customers can grow their own vegetables indoors and in less time than it would take using traditional methods.
By taking part in other competitions, Hydro Grow has already raised $55,000 in startup money and will be heading to New York City for "The Blender" Business Pitch Competition at the Forbes building later in March.
"We recognize and celebrate our moral obligation to design sustainable food sources for the betterment of humanity by allowing everyone to grow their freedom. This would simultaneously establish a new precedent of quality for produce, so consumers can now enjoy maximum freshness and nutrient content directly from the plant," founder and CEO Scott Massey said. "As we are nearing the completion of our second-generation model, we are currently looking forward to a potential licensing agreement in the near future. Ideally, this will accelerate our path to bench-marking our first sale."
Team members are Massey, a senior majoring in mechanical engineering technology, Ivan Ball, a senior majoring in electrical engineering technology, and Jimmy Carlson, a sophomore majoring in computer science.
Read more about Hydro Grow from and the team's ties to Purdue Polytechnic.
Read more about the business plan competition from Purdue News Service.