Artificial intelligence (AI), robotics, cyber-physical systems, the Internet of Things (IoT), cloud computing and other advanced technologies in automation and data exchange are improving manufacturing at a rapid pace. When referring to these next-generation technologies in this, our present-day Fourth Industrial Revolution, they are collectively known as "Industry 4.0," and industries of all sorts need qualified experts who are equipped to make decisions and solve problems based on the data from these integrated systems.
Ragu Athinarayanan, professor of engineering technology, predicts that AI and machine learning will be predominant factors in manufacturing facilities within the next five to 10 years.
"Employers in the manufacturing world need a new type of graduate to help them incorporate and benefit from these technologies," said Athinarayanan.
Under construction: the nation's first Learning Factory

Athinarayanan and Grant Richards, assistant professor of practice in the School of Engineering Technology, have the vision to prepare Purdue Polytechnic graduates to excel in this new cyber-physical manufacturing environment: an "Intelligent Learning Factory." The creation of a formal learning factory on Purdue University's West Lafayette campus provides another historic first – the first institution in the United States invited to join the International Association of Learning Factories (IALF).
The IALF is a collection of academic institutions across the globe that operate learning factories for achieving excellence in the teaching of manufacturing engineering. The Polytechnic's membership in IALF offers the opportunity to create unique partnerships with other member institutions in the network, providing a natural pathway to develop new international educational, research and experiential opportunities for Polytechnic students.
Because Purdue is the only member of the IALF to focus its facilities on undergraduate education, Richards believes the Intelligent Learning Factory provides a globally unique opportunity for undergraduate Polytechnic students to experience a fully functioning learning factory environment.
"The manufacturing world knows that these new capabilities exist and that Industry 4.0 will give them a significant competitive advantage, but they need people to help facilitate the adoption of these new technologies," said Richards. "Our approach will allow the Polytechnic to develop a pipeline of well-trained graduates with the knowledge and skills needed to understand and apply data and intelligence to manufacturing processes."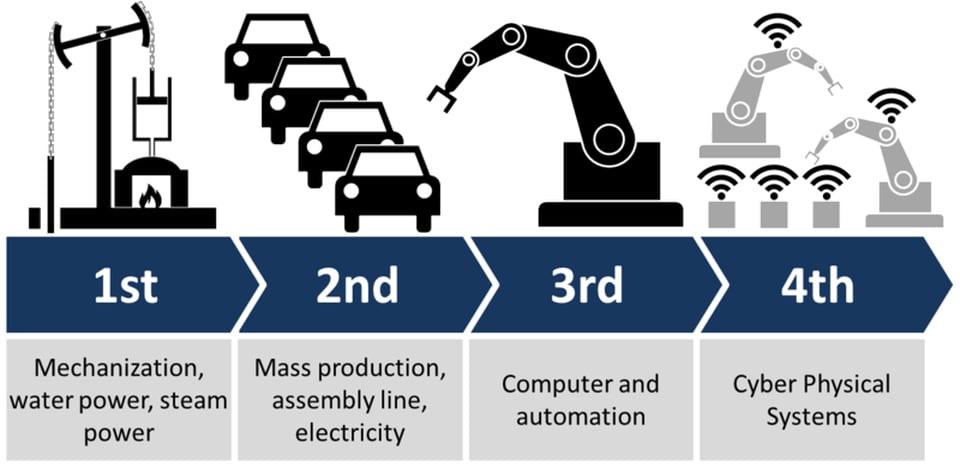 Creating Purdue Polytechnic's Intelligent Learning Factory

The Intelligent Learning Factory will be an at-scale, fully functional, cyber-physical production system designed to foster collaboration between multiple disciplines and prepare students to excel in a next-generation manufacturing environment. Students will benefit from real, industry-scale experiences centered around the production of devices and services with a high appeal to a collegiate audience, starting with the design and manufacture of smart scooters and smart skateboards.
"Polytechnic students working toward a Bachelor of Science degree in the School of Engineering Technology will experience technologies in context and gain a holistic perspective of the interdependent structures of cyber-physical systems – all while developing skills and aptitude relevant for functioning in an Industry 4.0 manufacturing environment," said Athinarayanan. "In conjunction with production technologies, students also will experience hands-on critical management scenarios relating to raw materials and supply chain, component creation, inventory flow, assembly, packaging and more."
Athinarayanan and Grant assert that graduates of the Intelligent Manufacturing program will understand the links between physical manufacturing systems with the virtual world of data and information processing, with strong skills in the application of data-centric tools and technologies to harness the power of data for solving manufacturing problems. To that end, featured core technologies in the Learning Factory include IoT, the Industrial Internet Architecture, cloud computing, AI/machine learning, augmented reality, simulation, digital twin, cybersecurity, additive manufacturing, and collaborative and autonomous robots.
"All of this will be delivered in a new curriculum that addresses the integration of physical operational technologies with information technologies and inspires innovation in manufacturing processing and production through the use of data," Athinarayanan said.
An industry advisory board is already in place to guide the development of a new Intelligent Manufacturing-focused bachelor's degree curriculum and the design of the new Intelligent Learning Factory, which is slated for 4,700 square feet of space in the new Gateway Complex.
"Employers in the manufacturing world need a new type of graduate to help them incorporate and benefit from these new technologies," said Athinarayanan. "We'll make systems and processes much more efficient as we reduce scrap, increase quality, and reduce production time. All of these things ultimately will make U.S. manufacturing more competitive and more successful on an ongoing basis – and we will make sure that our graduates are ready to lead the way." 
Learn more about the Polytechnic's Intelligent Manufacturing Education Initiative at polytechnic.purdue.edu/intelligent-manufacturing.

Additional information: