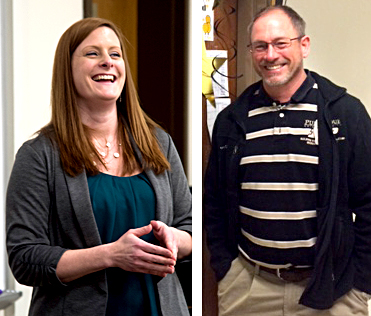 Two professors in the School of Construction Management Technology have won top teaching awards from Purdue University.
James Jenkins, associate professor of construction management, has been named the recipient of a 2016 Outstanding Undergraduate Teaching Award in Memory of Charles B. Murphy, and Jessica Cabral, assistant clinical professor of construction management, has received the 2016 Exceptional Early Career Award. They were surprised with the news on March 25.
The Charles B. Murphy Outstanding Undergraduate Teaching Award is the highest undergraduate teaching honor at Purdue University. It is awarded annually in recognition of outstanding teaching in all phases of undergraduate instruction at the West Lafayette campus. The honor is accompanied by a $10,000 cash award and induction into Purdue's Teaching Academy, which provides leadership for the improvement of undergraduate, graduate and outreach teaching.
The Exceptional Early Career Award recognizes outstanding undergraduate teaching among Purdue's early career, tenure-track faculty. Recipients of the award will receive a $5,000 award with additional funds for a department business account.