Several School of Aviation and Transportation Technology (SATT) students and members of the community assisted the Lafayette Police Department's SWAT team on a training exercise utilizing the school's large laboratory jet and the ramp space at Hangar 1 on August 29, 2017.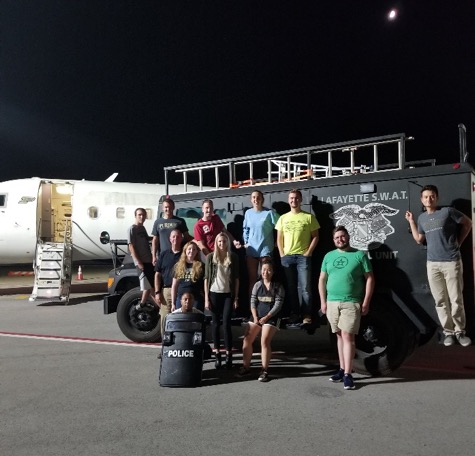 Students wore protective gear as the SWAT team practiced aircraft hostage rescue maneuvers. Students and faculty also provided technical overviews and demonstrations on various aircraft operations and configuration layouts for small and larger passenger airplanes.
"The event went into the evening hours, but our students demonstrated an outstanding professional demeanor and attitude of service," said Tim Ropp, associate professor of aviation technology and director of Purdue's Aerospace and Maintenance, Repair and Overhaul Technology Innovation (AMT-I) Center.
"SATT's active partnerships with the community's police and fire departments routinely promote agency relations, communication and effectiveness of services to the larger Lafayette community," Ropp said. "It also enables deep applied learning on aspects of aviation operations security that students simply can't obtain in a classroom."
A similar mutual-practice drill for emergency evacuation research was conducted with the Purdue Fire Department in spring 2017.