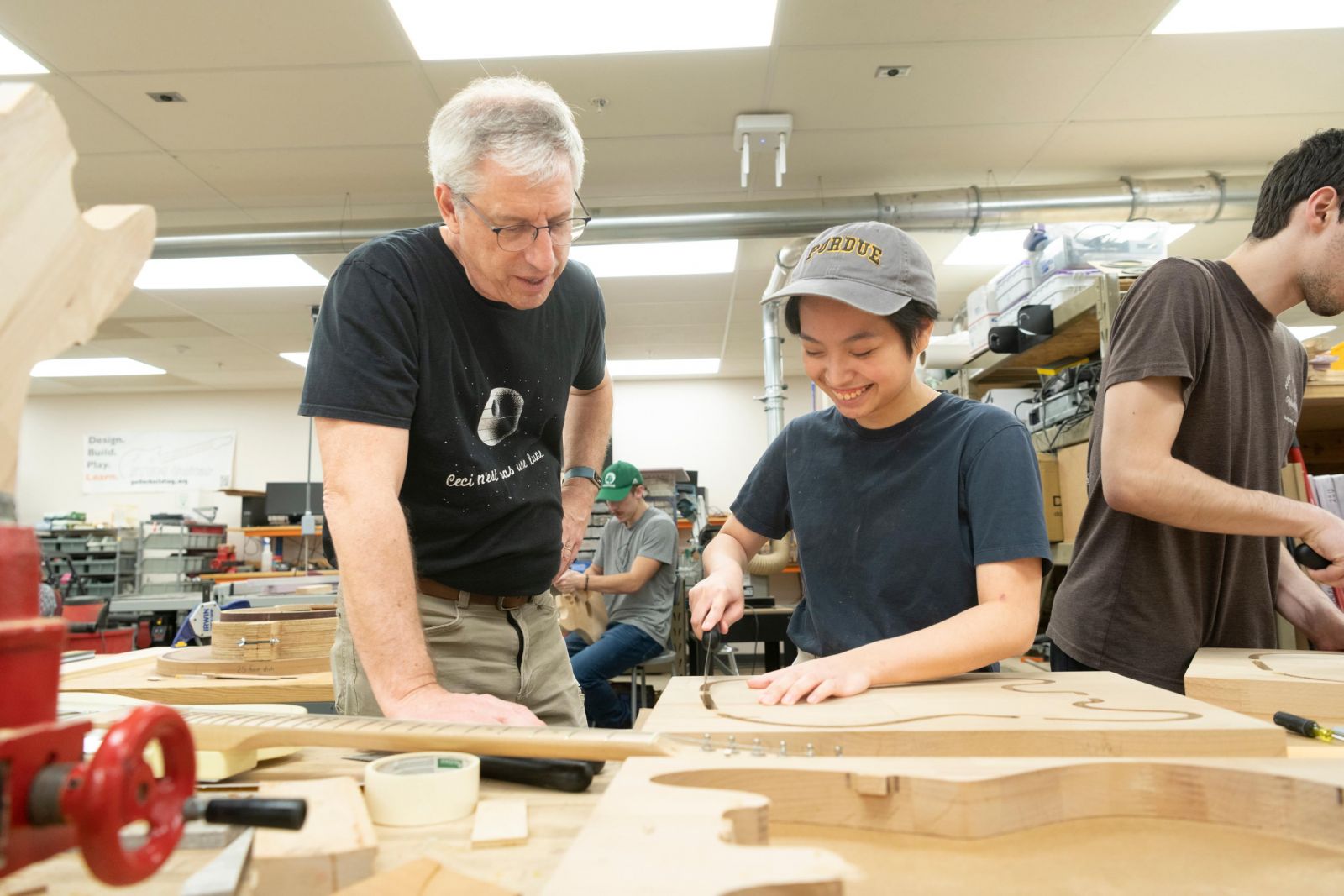 A pioneering alliance in experiential learning to create expert future luthiers
September 15, 2023 – Purdue Polytechnic's School of Mechanical Engineering Technology (MET) program and Gibson, the iconic and leading global instrument brand, and its charitable foundation, Gibson Gives have formed a pioneering alliance offering students the necessary experiential learning to create highly skilled future luthiers.
Centered on MET's "Stringed Instrument Design and Manufacture (MET 34900)" class led by professor Mark French, the Gibson partnership is designed to bring unprecedented hands-on learning opportunities to students in Purdue Polytechnic's "guitar lab," newly renovated and moved to a larger space in Lambertus Hall.
The goal of the program at Purdue is to foster a direct pipeline of talents future luthiers and engineers, and open-up avenues for collaborative research and innovation in guitar design and manufacturing," says Sergio Villanueva, vice president of American production for Gibson Brands. "Gibson chose Purdue due to the nature of the guitar lab course, which is the only one of its kind currently in higher education."
"At Gibson, we've always believed in nurturing new talent and innovation. Partnering with Purdue Polytechnic's MET program is a testament to that belief. We're not just investing in a program, we're investing in the future of music and craftsmanship," says Cesar Gueikian, president and CEO of Gibson Brands.
"This partnership not only underscores our dedication to experiential learning but showcases the dedication of both Purdue and Gibson to fostering an environment where creativity meets opportunity. Together, we are molding the next generation of technology leaders," adds Daniel Castro, dean of Purdue Polytechnic.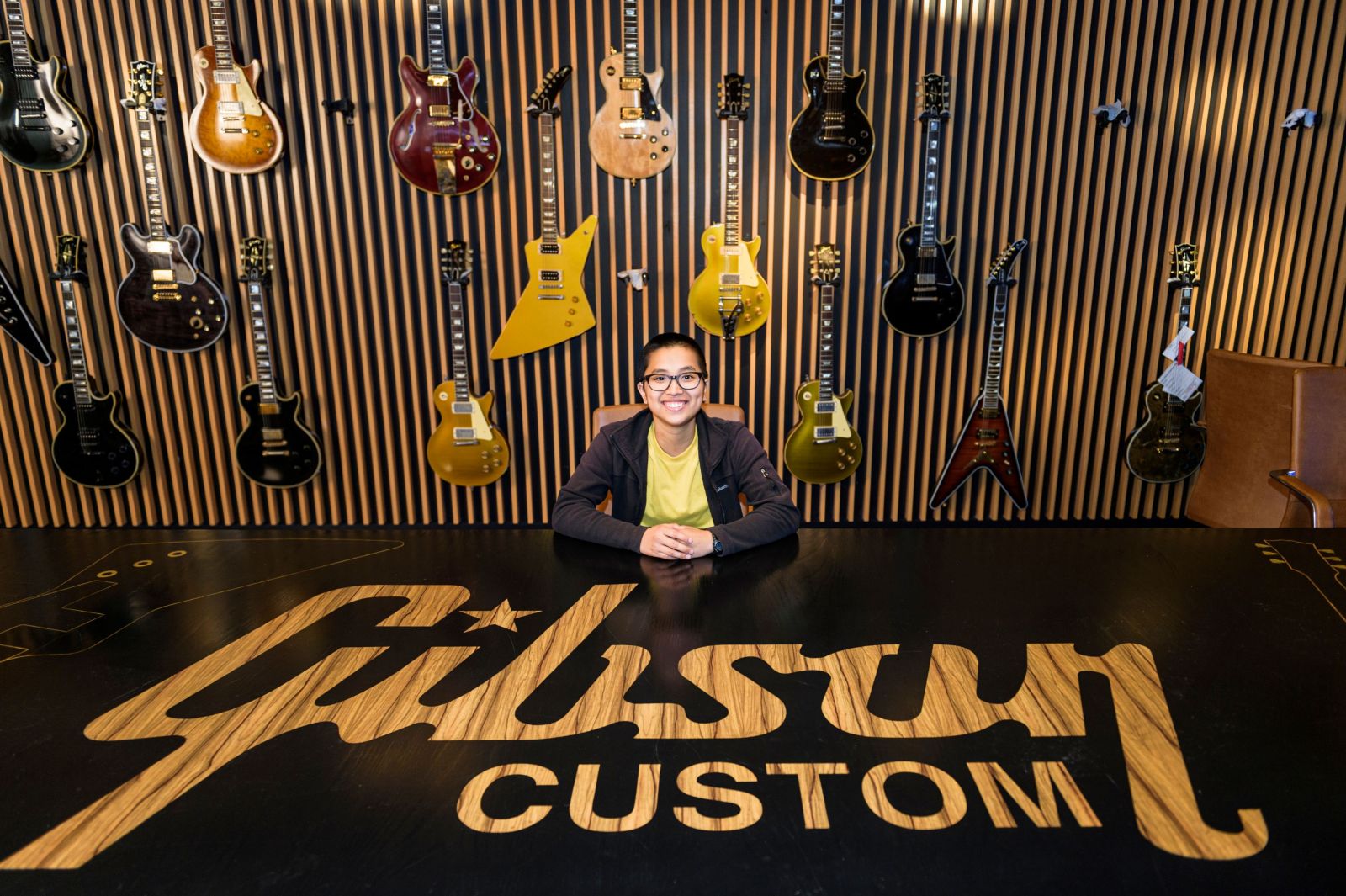 Guitar lab's visionary
In addition, MET's stringed instrument class is Purdue Professor Mark French's brainchild. A passionate educator with over two decades of experience as both a luthier and in the world of mechanical engineering technology, French has always been interested in the physics of musical instruments. In addition to an array of academic contributions, French's co-authored works on guitar electronics, upstart YouTube channel and cherished collection of vintage and modern guitars have helped to make the Purdue guitar lab courses a sought-after sensation on the Purdue campus.
"The Gibson partnership will benefit every student in the guitar lab," says Mark French, Professor at Purdue University Polytechnic. "I've had the privilege to see so many bright students in our guitar class. Helping them to understand product development and how this industry works will make them better engineers, no matter what field they pursue."
The Purdue partnership marks the first collaboration with a university in Gibson's 130-year legacy. As part of Gibson's commitment to excellence in musical artistry and craftsmanship, the brand is pledging formal support to the Purdue Guitar Lab in the following ways:
Gibson through its philanthropic arm, Gibson Gives, will be gifting guitars from Gibson's illustrious collection to be showcased in the lab, offering students a first-hand look at top-tier instruments.
By offering direct monetary support, Gibson Gives in their efforts to advance musicians and support music education, will ensure the Purdue Guitar Lab remains operational throughout the year. This funding also facilitates the hiring of undergraduate teaching assistants to maintain consistent learning and operations.
Provision of essential lab supplies and materials required for the design and manufacture of stringed instruments.
Valuable insights and experiences from Gibson's trained luthiers and industry-leading executives throughout the semester, granting students a unique perspective into the commercial side of their craftsmanship.
Starting this semester, support will extend throughout the academic year, with both Gibson and Purdue seeking to renew and fortify the partnership in subsequent years.
---
About Gibson:
Gibson, the leading iconic guitar brand, has shaped the sounds of generations of musicians and music lovers across genres for 130 years. Founded in 1894 and headquartered in Nashville, Gibson Brands has a legacy of world-class craftsmanship, legendary music partnerships, and progressive product evolution that is unrivaled among musical instrument companies. The Gibson Brands portfolio includes Gibson, the leading guitar brand, as well as many of the most beloved and recognizable music brands, including Epiphone, which has been on every stage since 1873, Kramer, the original MADE TO ROCK HARD guitar brand, MESA/Boogie, the home of tone, KRK, behind great music for over 30 years, and Maestro, the founder of effect pedals. Gibson Brands is dedicated to quality, innovation, and sound excellence so that music lovers for generations to come will continue to experience music shaped by Gibson Brands. Explore more at Gibson.com, Gibson App, and on Gibson TV, follow us on Instagram, Twitter and Facebook, and visit us at the Gibson Garage.
About Gibson Gives:
For over 130 years, the iconic and leading American instrument brand Gibson has been shaping sound across generations and genres. Gibson, and its charitable arm Gibson Gives believe in the power of music, and that getting instruments into the hands of those with a desire to make music is a life-changing event. Gibson Gives--a 501(c)(3) is committed to making the world a better place by supporting non-profit organizations and programs in their efforts to advance musicians, youth-focused education, music, health, and wellness initiatives. 100% of all donations to and from Gibson Gives go towards giving the gift of music. In the last three years, Gibson Gives has raised over $4.5 million dollars and enabled $46 million in funding for key organizations through product donations and meaningful giving worldwide. For more information, visit: www.gibsongives.org.
About Purdue Polytechnic:
The Purdue Polytechnic Institute, one of the 10 academic colleges of Purdue University, provides a unique array of high-demand technology disciplines for bachelor's, master's, and PhD degrees available on Purdue's flagship campus in West Lafayette, Indiana, and at other locations throughout the state.
The Polytechnic's faculty and staff encourage innovation, collaboration, and creativity among diverse interdisciplinary groups in the persistent pursuit of big ideas and novel approaches.
Thanks to our generous alumni and engaged industry partners, Purdue Polytechnic continues the important steps of Purdue's history, preparing our graduates for their successful futures. For more information, visit: https://polytechnic.purdue.edu/.
---
Gibson:
GIBSON.COM | X | IG | FB | GIBSON APP | GIBSON GARAGE | GIBSON TV
Gibson Gives:
---
For Purdue University Polytechnic, contact:
Heather Boswell
Director of Communications
765-667-0474
For Gibson media enquiries, contact:
PRIME PR GROUP, INC.
Libby Coffey
+1 626-676-4993
Additional information